Virtual Trade Show Ideas & In-Person Trade Show Giveaways for 2021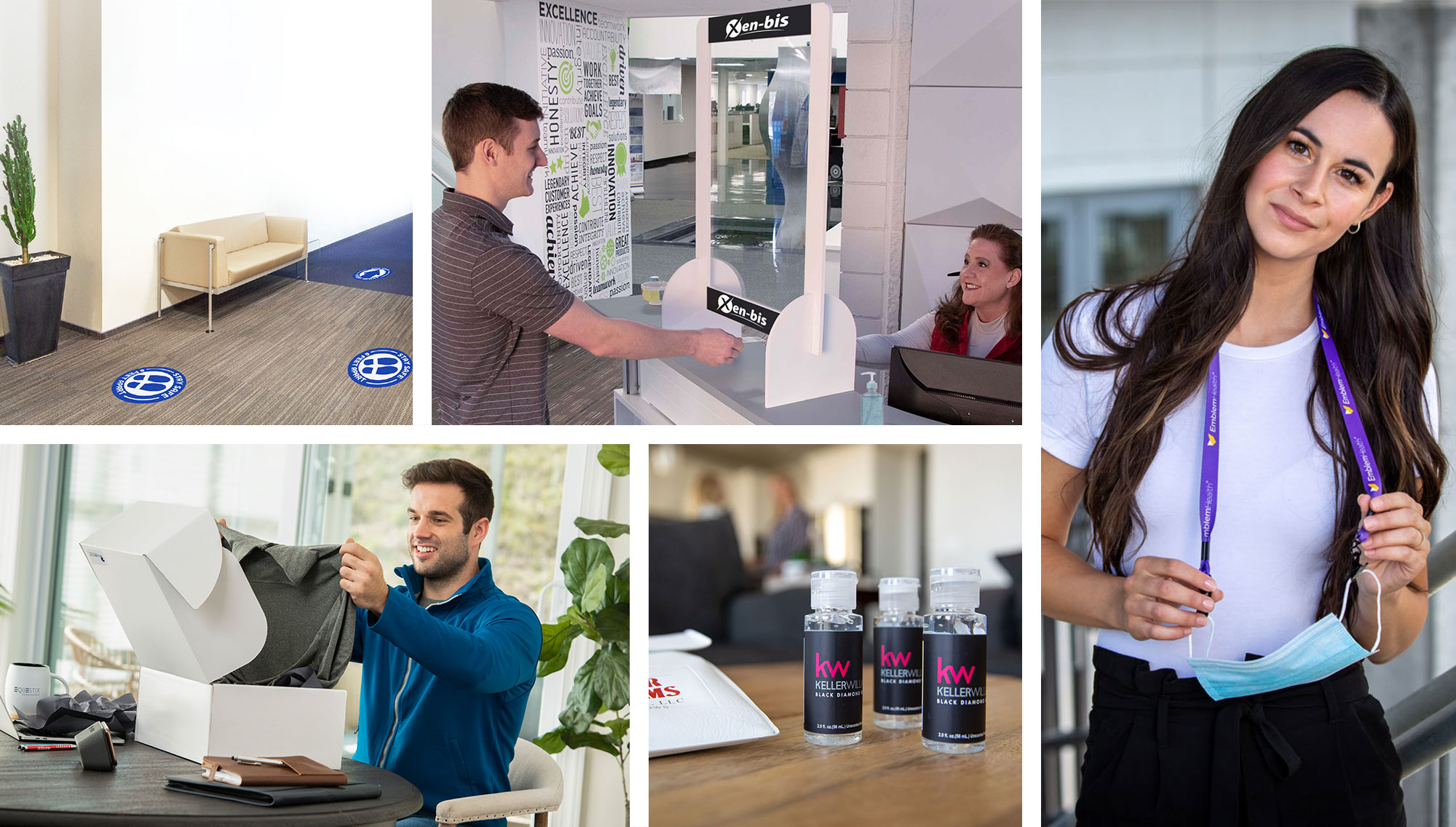 published: April 7, 2021
Businesses have been eagerly awaiting the return of trade shows as event organizers seek guidance on how to safely hold live events in light of Covid-19. Luckily, the science and medical communities have started issuing guidelines to help organizers get live events back up and running.
In the meantime, many organizers have turned their attention to virtual expositions. With the proper preparation, these events can be a huge success and draw in large audiences who are eager for new products, services and business partners.
Whether organizers choose to hold an online trade show, in-person event or a hybrid of the two, they'll need the necessary supplies to create a standout yet safe event that businesses can use to reach new clients.
Virtual Trade Show Ideas
An online business exhibition might not provide the same level of interaction as a live event, but there are still plenty of benefits to a digital trade show as well as methods to ensure attendance and engagement are high.
When it comes to a virtual expo, a great way to draw in early registration is by giving out incentive gifts like customized Basecamp® Pint Tumblers or Popsockets®. Virtual trade show ideas like this are a sure-fire way to increase attendance. If you are an exhibitor, arrange to sponsor these gifts and have them printed with your logo, a line about your offering that cuts through the noise, you web domain, and your contact information.
Attendees of an online trade show will also appreciate gifts like swag bags filled with popular giveaway items that will be useful during the digital exhibition. Sponsoring gadgets like these will show the people you want to connect with that you understand their needs, as well as how business works in 2021. Here are some gifts that will surely inspire people to log into the event and look you up afterwards:
Keep engagement high throughout the virtual exposition with games or contests where winners receive high-end prizes like hot tech items such as Bluetooth speakers or Skullcandy® headphones. You can even display these items as part of your online trade show booth design to remind attendees to participate.
Leave a lasting impression after the virtual expo ends by sending out thank you gifts to your new contacts like a coffee mug, bamboo soy candle or planter kit. These gifts will remind attendees to check back in on products and services that caught their eye during the digital exhibition. You can also include a flyer with any final sales pitch or promotional offer to seal the deal.
In-Person Trade Show Ideas
When it comes to in-person trade shows, the first objective is to stay safe. To ensure the health of attendees, event planners, sponsors and vendors will have to stay ahead of the curve. There are plenty of clever ways to do just that.
Maintain social distancing with floor mats designed to keep attendees 6 feet apart. Add in one-way signage with floor decals, and your event will run smoothly.
To keep exhibition booth vendors and potential customers safe, try out our protective counter barrier kit. This versatile product can be used in a variety of spaces to limit the amount of contact between participants.
Seat unavailable signs are a great way to keep chairs spaced out according to Covid guidelines, which may be important depending on the venue and region.
Checking temperatures is one of the best ways to fight back against the pandemic. No contact thermometers are an effective way to take on this fight.
Make it easy for both vendors and attendees to maintain proper sanitation by setting up sanitizer stations that are readily available and easy to access.
To avoid overcrowding at the front desk, encourage online registration ahead of the event. One of the best ways to pump up early registration is to throw in desirable swag items with each signup.
Include branded merchandise that is useful like safety items that attendees can use at the event. Here are some hot items for a swag bag that will let people know you are taking their safety seriously:
Mini hand sanitizers are the perfect giveaway if you include them with a carabiner, and you can place baskets of them all over the event floor to ensure they can be easily accessed. Sanitizers with a slap wristband are also convenient and excellent at promoting proper sanitation. Throw in a branded mask and attendees will be impressed by your commitment to their safety.
Hand sanitizers and extra masks can be a lot to carry. Help attendees out with these durable fanny packs.
A three pack of color coded social distancing wristbands will help attendees communicate how comfortable they are with levels of contact from "okay with hugs" to "keeping my distance."
Spice up the event with built-in PPE apparel like the Aegis® Antimicrobial Treated Hoodies with Face Covering.
Make your display booth attractive and vibrant with easily-transportable displays like the Eurofit Display Wall or the 3 Banner Geo Display. These displays are also excellent online booth ideas if the event ends up being a virtual expo. If the event is moved outside, tents and sail signs are sure to draw attention your way.
Some trade show giveaways will never go out of style, and many of these products have been redesigned with safety in mind:
2021 Trade Shows & Industry Events
Now that you are armed with great ideas, here are some events where you can show them off!
Jump to events for your industry:
---
Tech Trade Shows & Events for 2021
While the mammoth CES® Consumer Electronics Show went digital this January, there will be in-person trade shows and conferences for the tech industry during 2021. Here are a few highlights of upcoming virtual and live events:
Cisco Live 2021
Virtual: March 30-31, 2021
Adobe Summit 2021
Virtual: April 27–28, 2021
Red Hat Summit 2021
Virtual: April 27–28 & June 15–16
Live: September - December
Interop Cybersecurity's Changing Role in IT
Virtual: April 29, 2021
IBM Think 2021
Virtual: May 11-12, 2021
Mobile World Congress – Mobile Tech Trade Show
Live: June 28 – July 1, 2021 | Barcelona, Spain
Acumatica Cloud ERP Summit 2021
Live: July 18 - July 23, 2021 | Las Vegas, NV
Black Hat USA – Information Security
Live: July 31-Aug. 5, 2021 | Las Vegas, NV
GMIS Meets - Public Sector Information Technology
Live: Aug. 22-25, 2021 | Lake Buena Vista, FL
» return to event categories list
---
Healthcare/Medical Trade Shows & Events for 2021
The healthcare industry has been at the heart of the pandemic response, but COVID isn't the only challenge facing medical professionals. Network with other pros and pick up creative problem solutions at these upcoming events.
World Health Care Congress
Live: April 11 – 14, 2021 | Washington, DC
Leadership Strategies for Evolving Health Care Executives
Live: April 12 – 16, 2021 | Boston, MA
American Hospital Association (AHA) Leadership Summit
Virtual: July 22 – 24, 2021
HIMSS21 - Global Health Conference & Exhibition
Live: Aug. 9–13, 2021 | Las Vegas, NV
» return to event categories list
---
Education Trade Shows & Conferences for 2021
While most events aimed at K-12 educators are on hold this year, there are virtual and live conferences being held for higher education.
NAFSA Annual Conference & Expo – Association of International Educators
Live: May 30-June 4, 2021 | Orlando, FL
2021 NACAC National Conference – National Association for College Admission Counseling
Live & Virtual: September 23- 25, 2021 | Seattle, WA
Leadership in Higher Education Conference
Live: October 7-9, 2021 | Baltimore, MD
EDUCAUSE 2021 - Higher Education IT
Live & Virtual: Oct. 26–29, 2021 | Philadelphia, PA & Online
2021 Transforming STEM Higher Education
Live: November 4-6, 2021 | Arlington, VA
» return to event categories list
---
Construction Trade Shows & Events for 2021
CONEXPO-CON/AGG won't be back until 2023. Here are some other great events to help you keep up to date and connected.
CFMA - Construction Financial Management Association
Live: May 15-19, 2021 | Denver, CO
World of Concrete 2021
Live: June 8-10, 2021 | Las Vegas, NV
Construction Super Conference 2021
Live: Dec 6-8, 2021 | Orlando, FL
» return to event categories list
---
Real Estate Trade Shows & Events for 2021
It's been a tumultuous year for the real estate industry, with unprecedented challenges as well as incredible growth. Learn how to stay on top of the market with these in-person events.
REALTOR Broker Summit
Live: April 28-29, 2021 | Acme, MI
REALTORS Legislative Meetings & Trade Expo
Live: May 12-13, 2021 | Washington, DC
National Forums Symposium
Live: May 19-21, 2021 | Chicago, IL
Apartmentalize
Live: June 16-18, 2021 | Chicago, IL
I.CON 20: The Industrial Conference
Live: June 17-28, 2-21 | Jersey City, NJ
RealWorld 2021 – Property Management
Live: July 11-13, 2021 | Nashville, TN
2021 BOMA International Annual Conference & Expo – Commercial Real Estate
Live: July 18-21, 2021 | Boston, MA
» return to event categories list
---
Senior Living Conference
Senior Living 100 Leadership Conference 2021
Live: May 23-26, 2021 | Miami, FL
» return to event categories list
---
Marketing & Advertising Conferences
AdWeek Events
Virtual: Each Month of 2021
SMX Search Marketing Expo Events
Virtual: April, June, August, November & December 2021
MarketingProfs B2B Forum
Virtual: April 7-8, 2021
Inbound by HubSpot 2021
Virtual: October 12-14, 2021