Best Sports Team Gear from Custom Apparel to Senior Night Gifts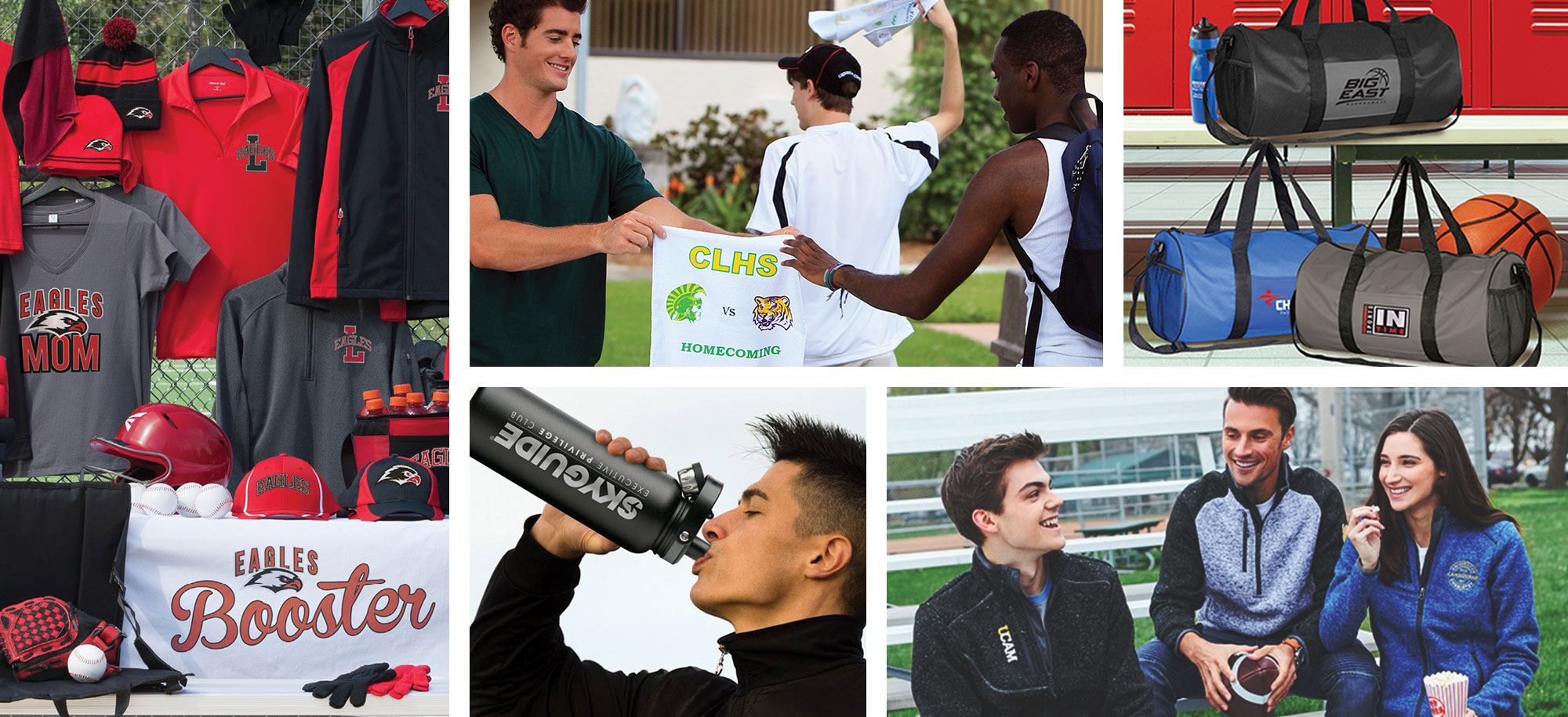 published: March 25, 2022
What is a team without team spirit? Team spirit is a bit of magic that happens when athletes, coaches, cheerleaders, and students add their individual efforts, faith and excitement to a project that is greater than the sum of its parts. Custom sports items bearing the team logo are a central ingredient in the team spirit recipe. Custom sports gear creates a professional and unified look on the field, the rink or on the court while it bolsters the confidence of athletes in themselves and in their teammates—confidence that translates into goals, runs and 3 pointers. Custom sports items can also be used for fundraising, thanking coaches, and keeping parents and fans comfortable and happy in the stands. Get inspired with our best ideas for supporting the team from the first practices all the way to the awards banquet.
Personalized items make team members look professional, trendy, and stylish. That kind of pride and confidence instills an energetic vibe that even opposing teams pick up on, while it creates a formidable performance. Custom team gear can even be individually personalized with each athlete's name, so their items don't get mixed up. Encourage team spirit with these uber-handy items:
Let's take a moment to cheer for the parents of student athletes. Keeping equipment and apparel straight, and providing rides, support, and snacks for multiple children in multiple sports is quite a challenge! Help them keep everything straight and organized with custom printed sports schedule magnets. Nothing is more convenient than a full season of dates, locations and opposing teams right on the fridge where it can't get lost. Schedule magnets can be customized with team logos, or even photos of your team in the background.
Car magnets turn regular cars into spirit-mobiles! Create your own design, or add your team logo to stock designs for volleyball, tennis, baseball, basketball, or soccer. Pop out magnets in sports theme shapes like hats, sports balls, jerseys and pucks are just plain fun, and make great items for fundraisers, pep rallies or game giveaways. Add your team logo and mascot to themed magnet sets for football, baseball, basketball, or hockey. Magnet picture frames in the team's colors are perfect inexpensive and easy to mail gifts for athletes and fans alike. Send one out with a team photo to keep the memories going when the season is complete.
In addition to bringing communities together and teaching athletes the value of hard work and teamwork, sports games can bring awareness to important causes. Keep the positive vibes rolling by planning special Pink Out games for breast cancer awareness, particular during October, which is Breast Cancer Awareness Month. Breast cancer awareness sports socks, fun retro scrunchies, t-shirts and cause bracelets all in the event's signature pink ribbon theme make perfect attire for players and giveaways for fans.
It's been a grueling season, with lots of heart, effort, friendships, and plenty of ups and downs. Now it's time to recognize and applaud! Reward and celebrate the skill and sportsmanship of your team and MVPs with sports banquet awards like commemorative pins, certificates, plaques, medals and trophies.
Get inspired with these ideas for awards to give at sports banquets: