New Business Development Manager for GeigerBTC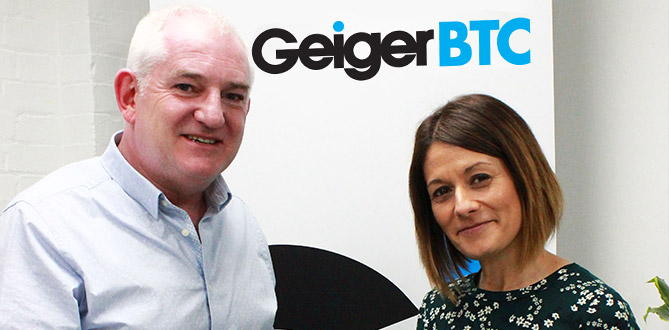 Paul Beirne, GeigerBTC sales director and Nicole Armstrong, GeigerBTC's new business development manager
London, UK May 3rd, 2019: UK Distributor GeigerBTC (https://www.geigerbtc.com) , a subsidiary of Geiger, a multi-generational family owned and operated company in the US, welcomes Nicole Armstrong as Business Development Manager.
Nicole comes with a wealth of experience within the Marketing and Advertising sector and brings over six years experience in the promotional merchandise industry, having developed strong working relationships client side and overseen the implementation of many new client programmes. Nicole will focus on growth as the business continues to make waves in the market through the provision of exceptional service, delivered by some of the best people working within the industry.
Nicole said: "This is a really exciting time to be joining GeigerBTC. BTC Group's merger with Geiger in the USA makes us one of the largest branded merchandise companies in the world, with over 800 employees managing over 330 corporate merchandise programmes, giving us greater scale, scope and resource.
There are so many reasons to work with GeigerBTC, from our strong Account Management and Customer Service teams, who have a wide variety of specialisms and collective experience, through to our in-house production facility and 30,000 square foot distribution centre and warehouse, giving us complete control of quality, timelines and costs.
It's a business that is really going places, and I'm looking forward to being a part of the business growth over the coming years."
Nicole will be working closely with Paul Beirne, GeigerBTC Sales Director. He said: 'Nicole is a great addition to our growing team. I am confident that Nicole's expertise and can-do approach will be vital to supporting our future plans."
GeigerBTC delivers global merchandise programs and clothing, enhancing customers' brands worldwide, with a large in-house print and embroidery division. For more information visit https://www.geigerbtc.com or call +44 (0)20 8569 2250.