Keep it Cool with Killer Koozies & Can't Miss
Custom Can Coolers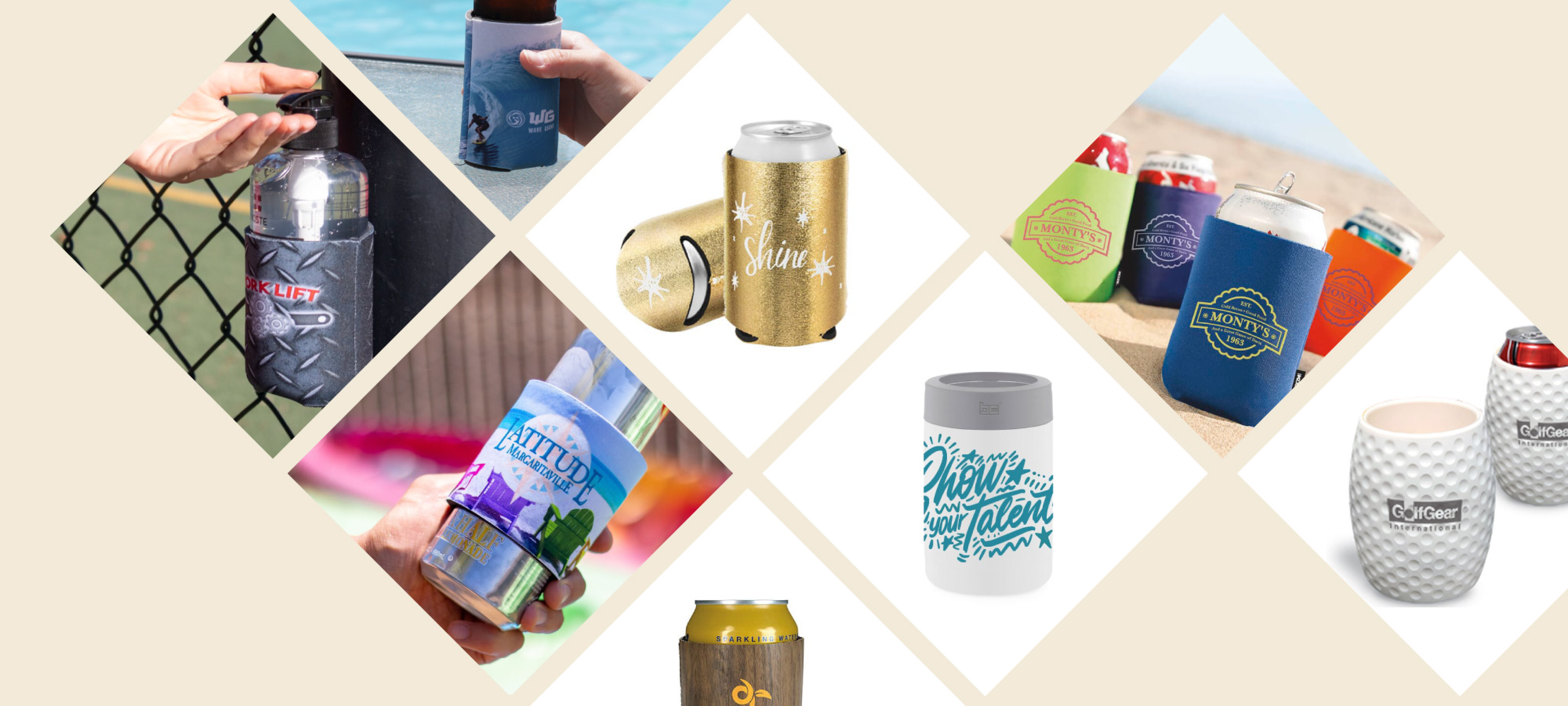 published: May 27, 2022
When summer is just around the corner, thoughts turn to hot days and cool drinks. Everyone loves to have coolers and custom can koozies that actually keep their favorite beverages icy cold for a long period of time. If you're planning an employee picnic, customer appreciation event or participating in an industry trade show in these warm months, custom can coolers and koozies can make great giveaways.
Cool koozies have come a long way from the original foam varieties in both design and performance. We offer a wide variety of attractive drinkware and high-performing fun koozies for you to choose from.
2-in-1 & Dual Purpose Personalized Koozies
The most successful people in the world have mastered the skill of multitasking; why not expect the same from your swag? We offer several 2-in-1 and dual-purpose custom koozies.
Check out our Bottle Opener KOOZIE® that is made from high-quality polyester and comes with a built-in bottle opener for added convenience. It can be easily sized to fit both cans and bottles and can be folded flat, making it perfect for mailers or easy transport to far-off conferences. The Party Fanny Pack with KOOZIE® Can Kooler offers a zippered main compartment with a back zippered pocket. It also has an adjustable waist strap with buckle closure.
Here are some more hard-working favorites: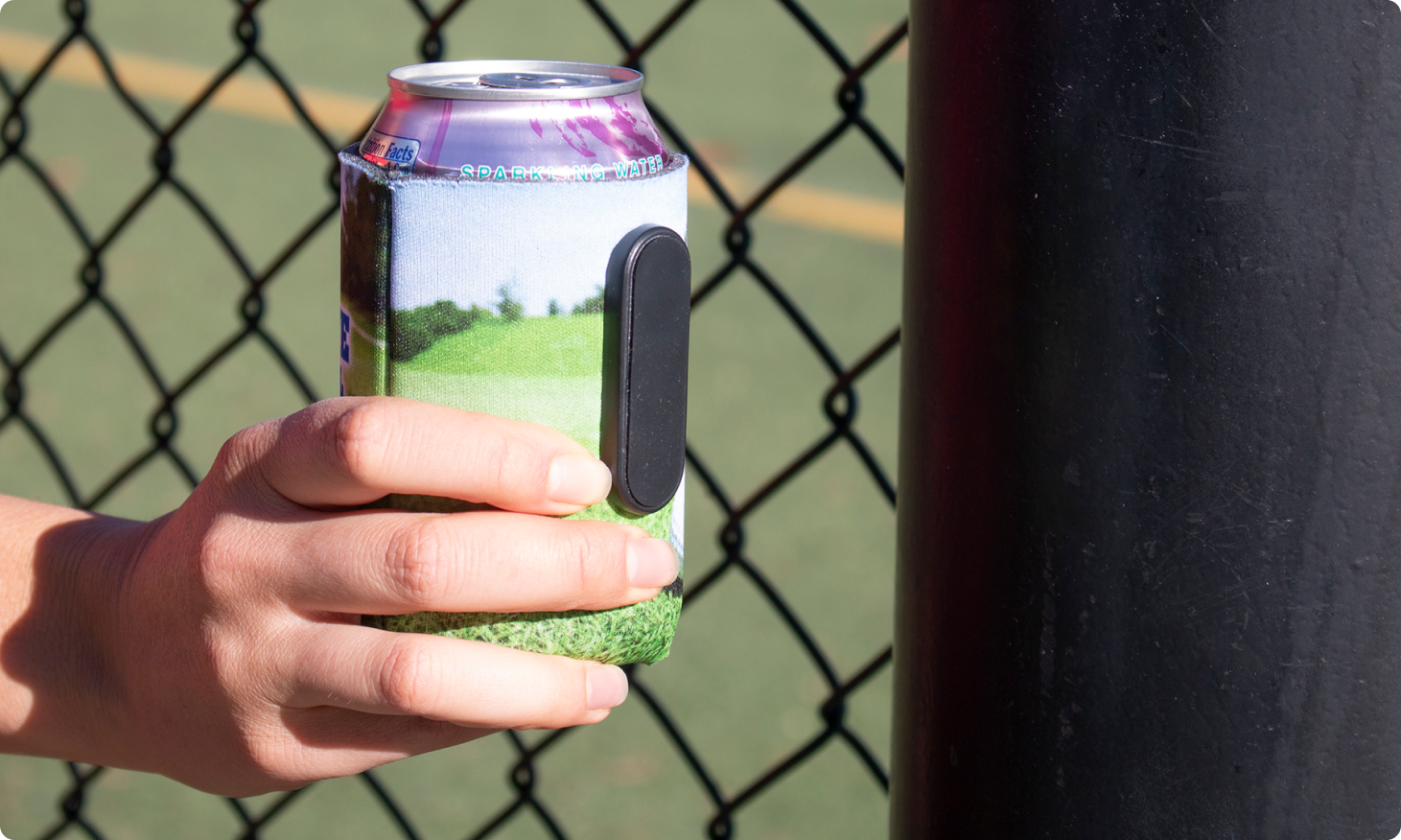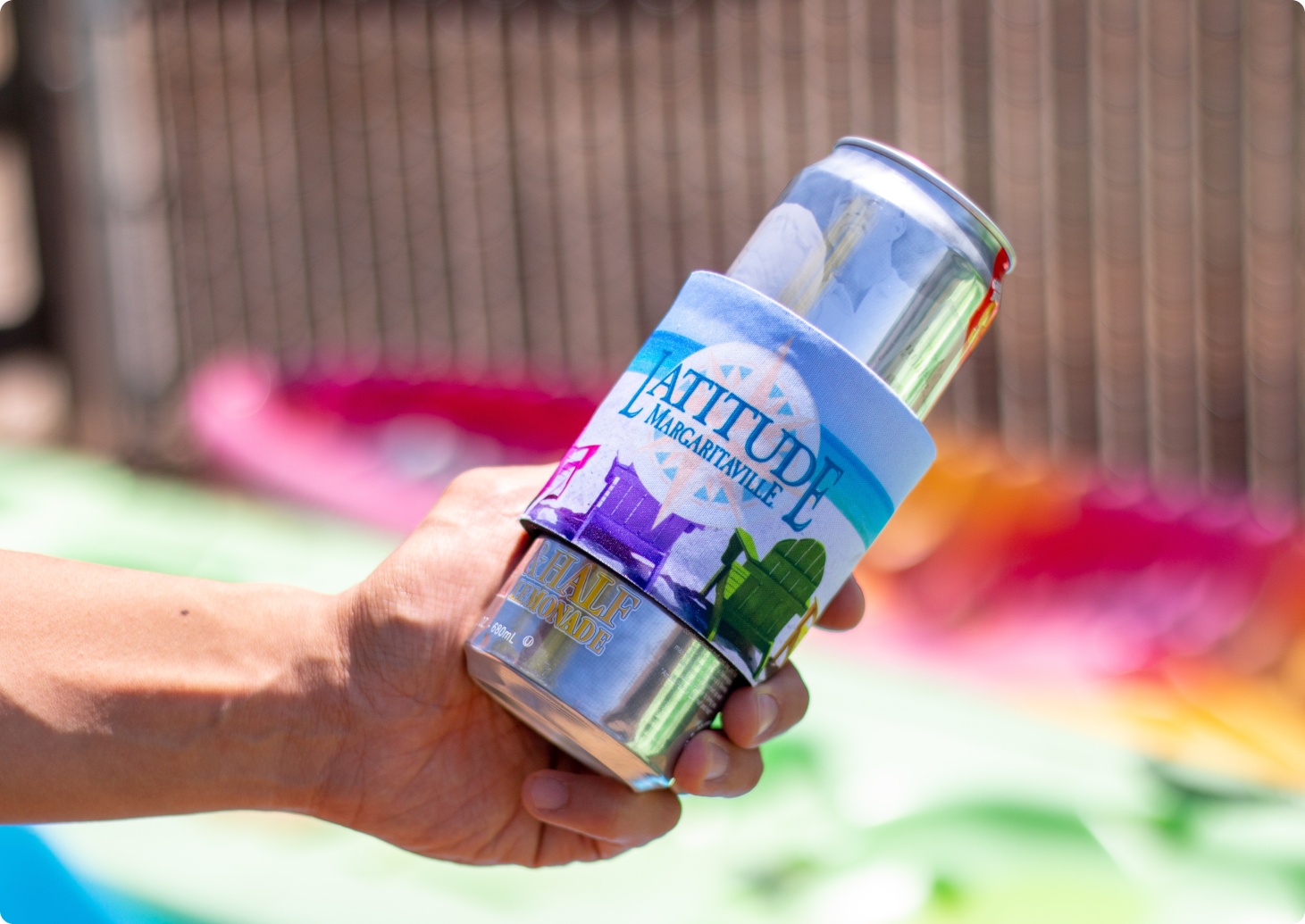 Fun & Unique Koozies
When it comes to purchasing swag today, many businesses and organizations may find it difficult to be unique. Walk around any trade show or community event, and it's easy to find popular giveaways that often end up in the landfills.
Instead, invest in a fun and unique product such as our KOOZIE® Glow-in-the-Dark that can stay visible during nighttime parties after just 15 minutes of light exposure or our Full Color Slap Wrap™ that is made from a sharkskin-neoprene blend and works like a slap bracelet. This slap koozie stays securely in place once and fits multiple containers while keeping hands dry. Make your brand the hero of the day with our Can Cooler Hero with Cape. This insulated can cooler is made from high-density open cell foam and features a superhero theme with a sewn-on cape. Imprint your message, logo, or brand in three spots including a full color imprint on the cape itself. These can coolers are perfect for non-profit organizations that recognize volunteers, healthcare workers, teachers, or anyone who makes a difference.
Check out some of these best-sellers:
Cool Koozies in an Array of Materials & Patterns
Forget the boring one-size-fits-all foam custom can koozies of days gone by. It's time for a change of material and patterns that will not only help your recipients stand out but your organization as well. The next time you have a trade show, employee appreciation event, or community shindig, select unique koozies that have updated their appearance.
Our Burlap Can Cooler is a customer favorite with its natural and rustic look. It's collapsible for easy storage or mailing. Imprint your message or logo and select the color of your stitching for extra customization. The burlap exterior is reinforced with a neoprene lining, making drinks stay colder longer and protecting hands from condensation. Our Rainbow & Tie Dye Can Coolers are made with neoprene, making them latex-free and water resistant. With their space-saving design, these koozies fit 16 oz and 20 oz bottles perfectly.
Browse through these other one-of-a-kind offerings: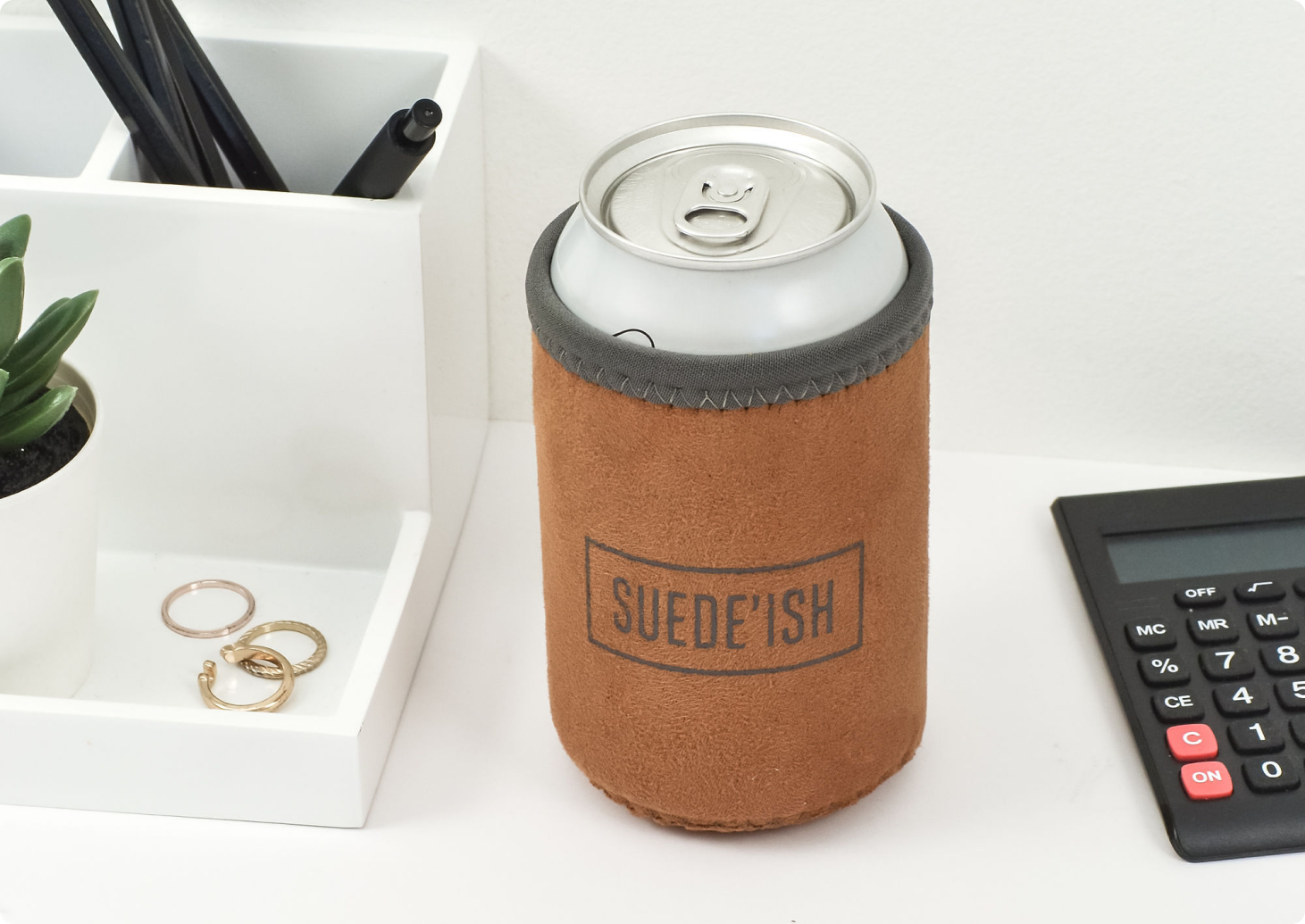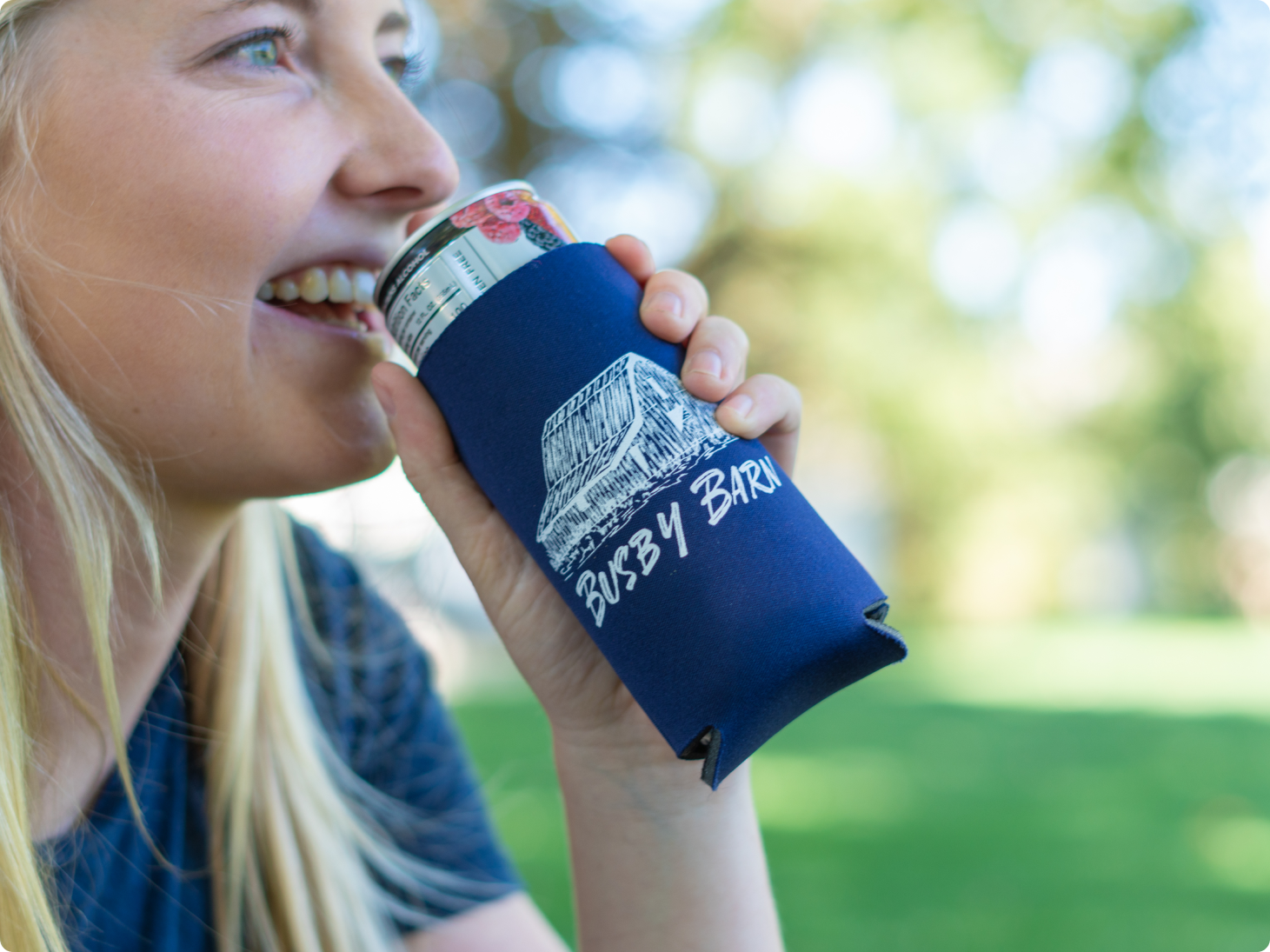 Custom Slim Can Koozies
Who says swag can't stay in touch with the times? We know that seltzers and energy drinks are trending hot these days with their stylish slim can designs. We are staying in step with a wide variety of custom slim can koozies.
Our 12 oz Slim Stainless Steel Insulated Can Holder is perfect for hard seltzer, beer or energy drinks that come in a slim can. Select from four unique colors and a powder-coated finish to make your brand stand out. These can coolers have a double-wall stainless steel construction, leading to excellent performance. The Basecamp Chilly Slim Insulated Can Cooler is a double wall vacuum stainless steel holder ideal for a slim can. It has a removable top ring and keeps beverages cold or hot longer. Basecamp® is proud to partner with Wounded Warrior Project® to donate $100,000 in 2021 to support their mission to honor and empower wounded warriors. For a simpler and more budget-friendly option, show off your logo on the 12 oz Slim Seltzer Coolie.
Select from our in-demand slim can varieties:
Full Color Sublimation Koozies
Forget the limited, tiny logo imprinting on old-time swag. Today's technology allows for full-color "all over" customization. Create a custom koozie with a picture that uses an image or photo reflecting your brand. You'll have one of the most eye-catching sublimation koozies on the trade show floor.
Our Slim Full Color Neoprene Can Holder features a vivid wrap-around full color sublimation to maximize its visibility. Perfect for a wide variety of tall and slim drinks, this sublimation can cooler is guaranteed to be a hit at your next event. Our 12 oz Full Color Foam Can Cooler is a colorful and comfortable way to carry cans while keeping them cold. Made from ⅛-inch high-density open cell foam, this USA-made koozie folds flat to ship, store, or mail easily. Add your full color logo or brand to make your swag stand out against the competition.
Here are some of our best-sellers: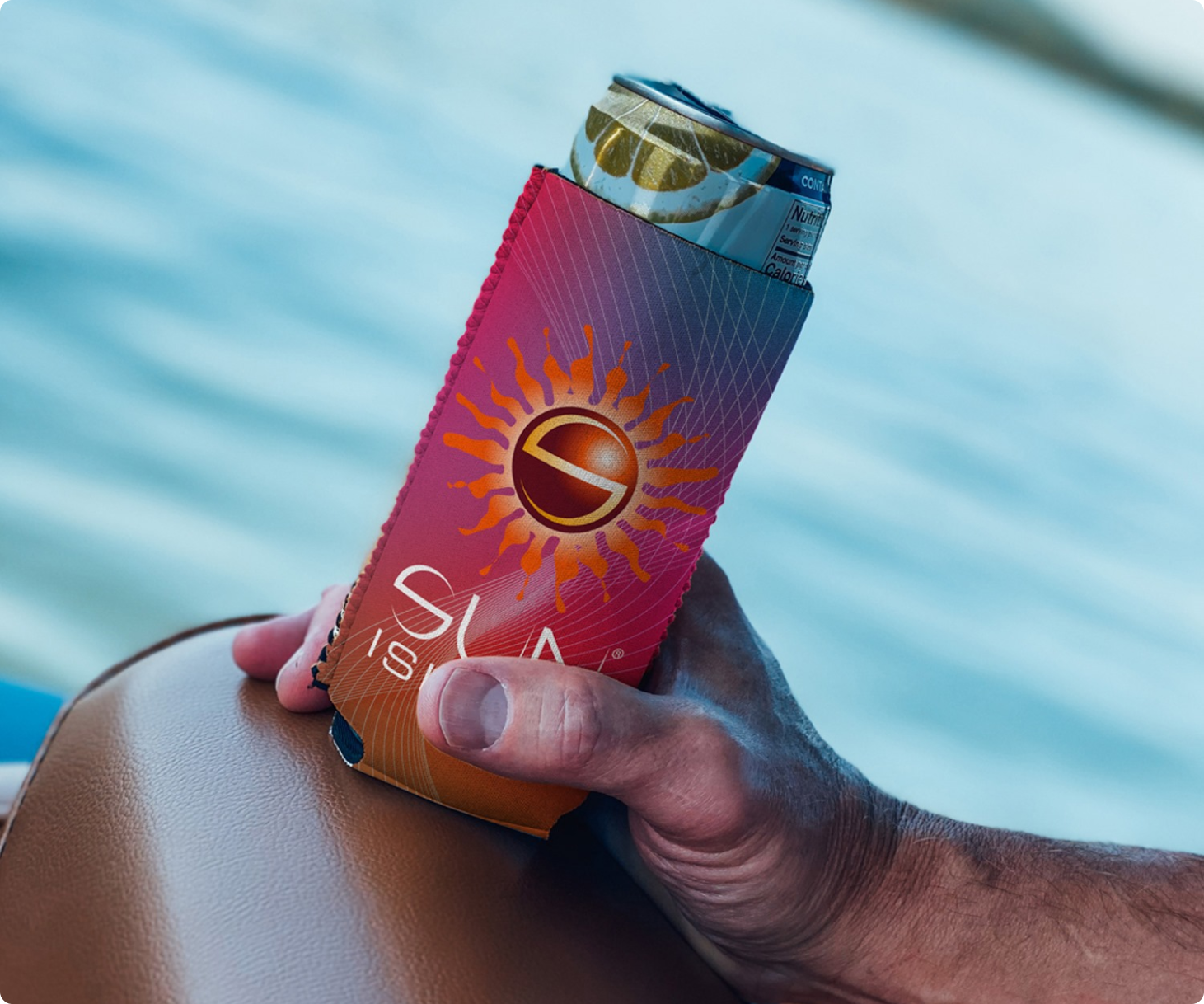 Vacuum Insulated Custom Can Coolers
There's nothing more frustrating on a hot day than a luke-warm beverage that lost its battle with its koozie. Help your customers, employees and other stakeholders cool in the dog days of summer by providing them with these vacuum-insulated custom can coolers that boast extensive cooling time.
The 11 oz Sherpa Vacuum Tumble & Insulator keeps drinks hot for five hours and cold for a whopping 15 hours. Your recipients will appreciate the clear, press-on lid with a slide closure as well as its double-wall construction and vacuum-insulated performance.
Corkcicle's® Classic Arctican Can Cooler does more than keep drinks cool; every purchase helps bring clean water to people in need as well through a charity effort. These koozies keep 12 oz cans cold for up to three hours by simply freezing the cooling core base and twisting it on. It comes with a sleeve adapter for glass bottles.
Here are the best insulated performers: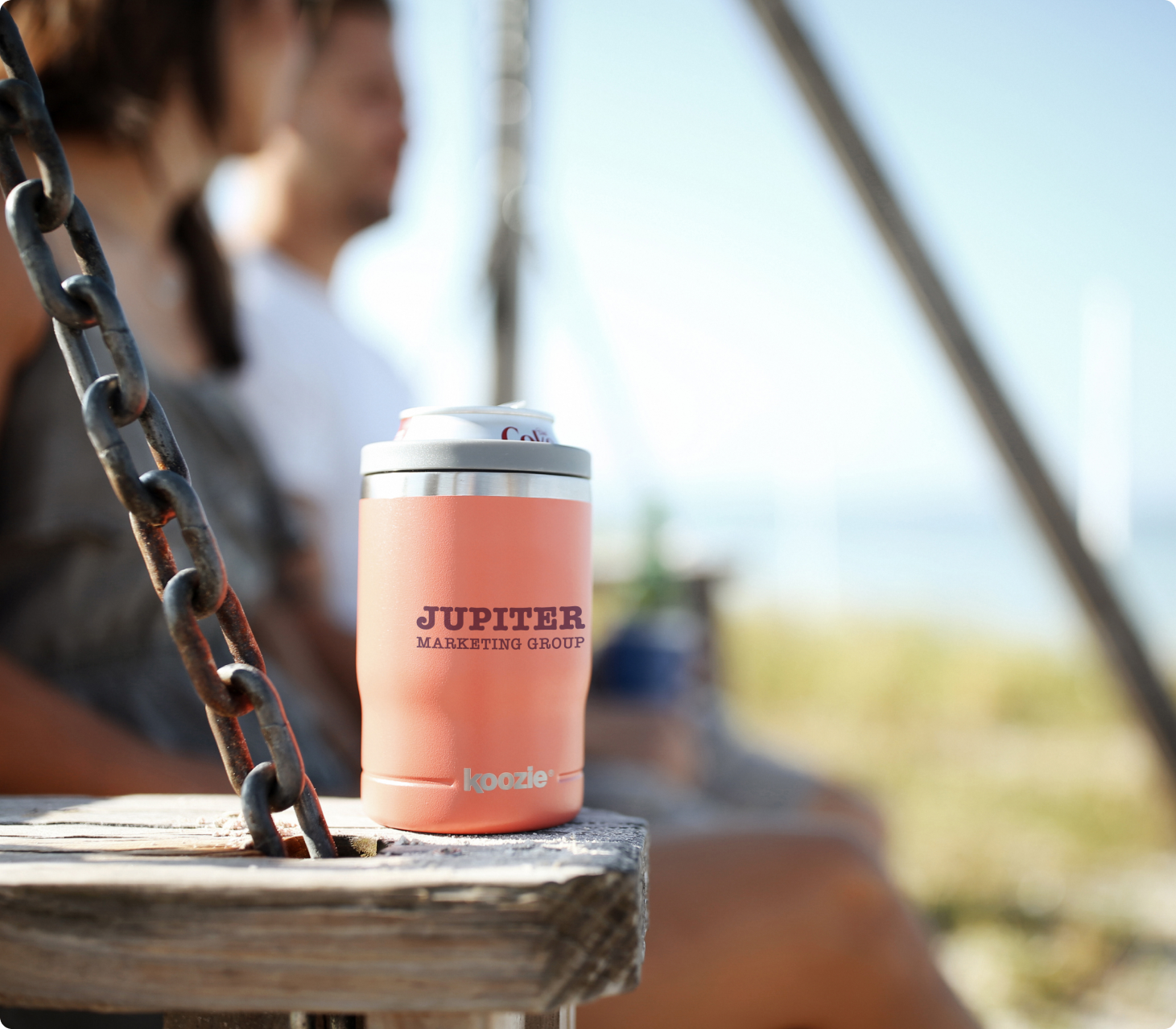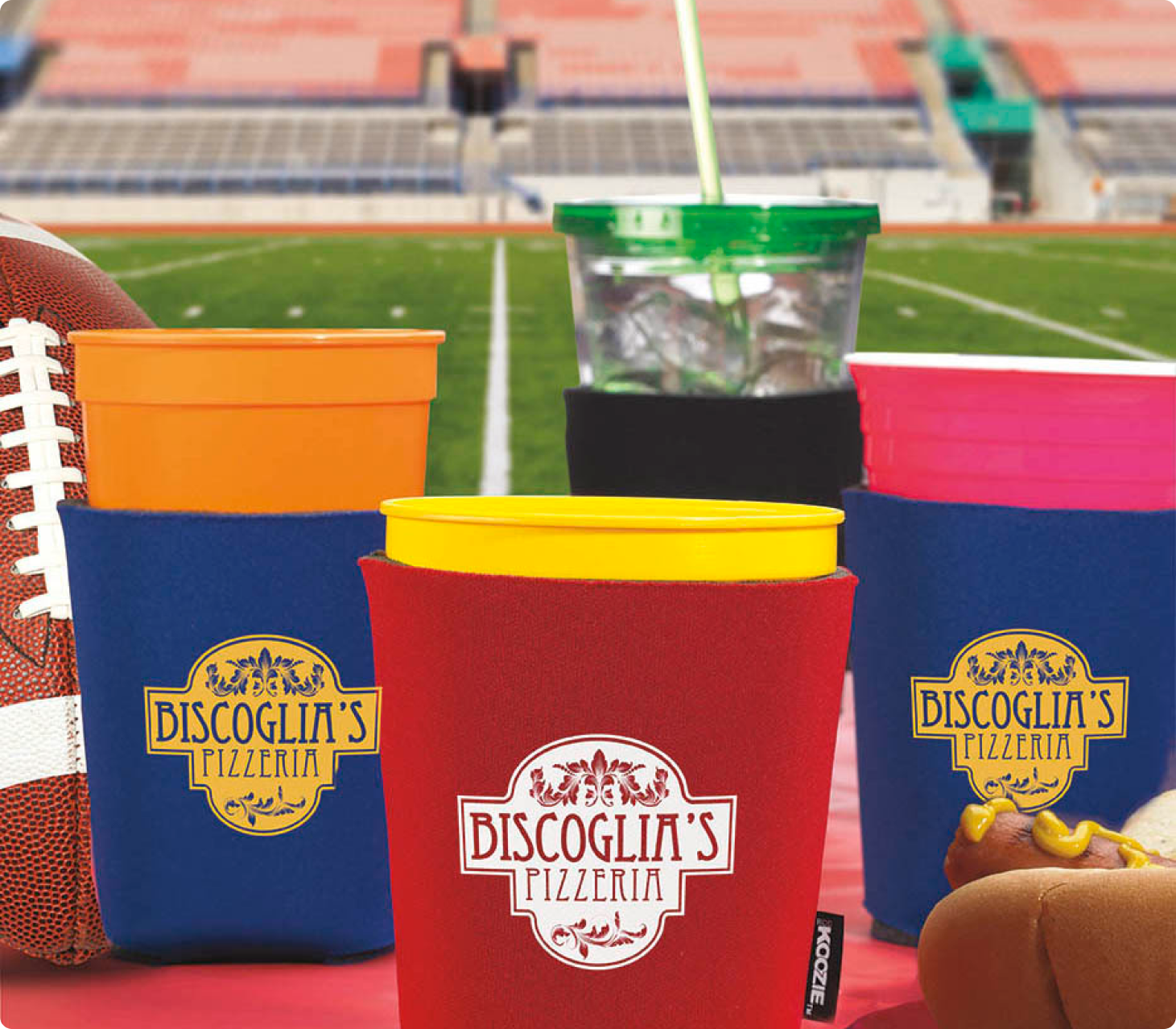 Custom Coozies for Water Bottles, Cups, Rocks Glasses & More
Gone are the days where koozies only keep beer cans cool. Today, select just about any beverage shape and you can find a custom koozie to fit. Keep water bottles, rocks glasses, cups, and many more drink vessels cool and condensation free in the summer heat.
Our Asobu® Insulated "On the Rocks" Kuzie lets your employees, customers or other stakeholders enjoy perfectly chilled "on the rocks" or "neat" drinks for a longer period of time. The slim, double-wall vacuum design includes a standard U.S. made straight up old-fashioned rocks glass. The Zip-Up Bottle KOOZIE® Kooler is collapsible, making it easy to carry in a pocket or purse. It fits most 12 oz long-neck bottles and is ready and waiting for your logo and branding.
Peruse our popular products: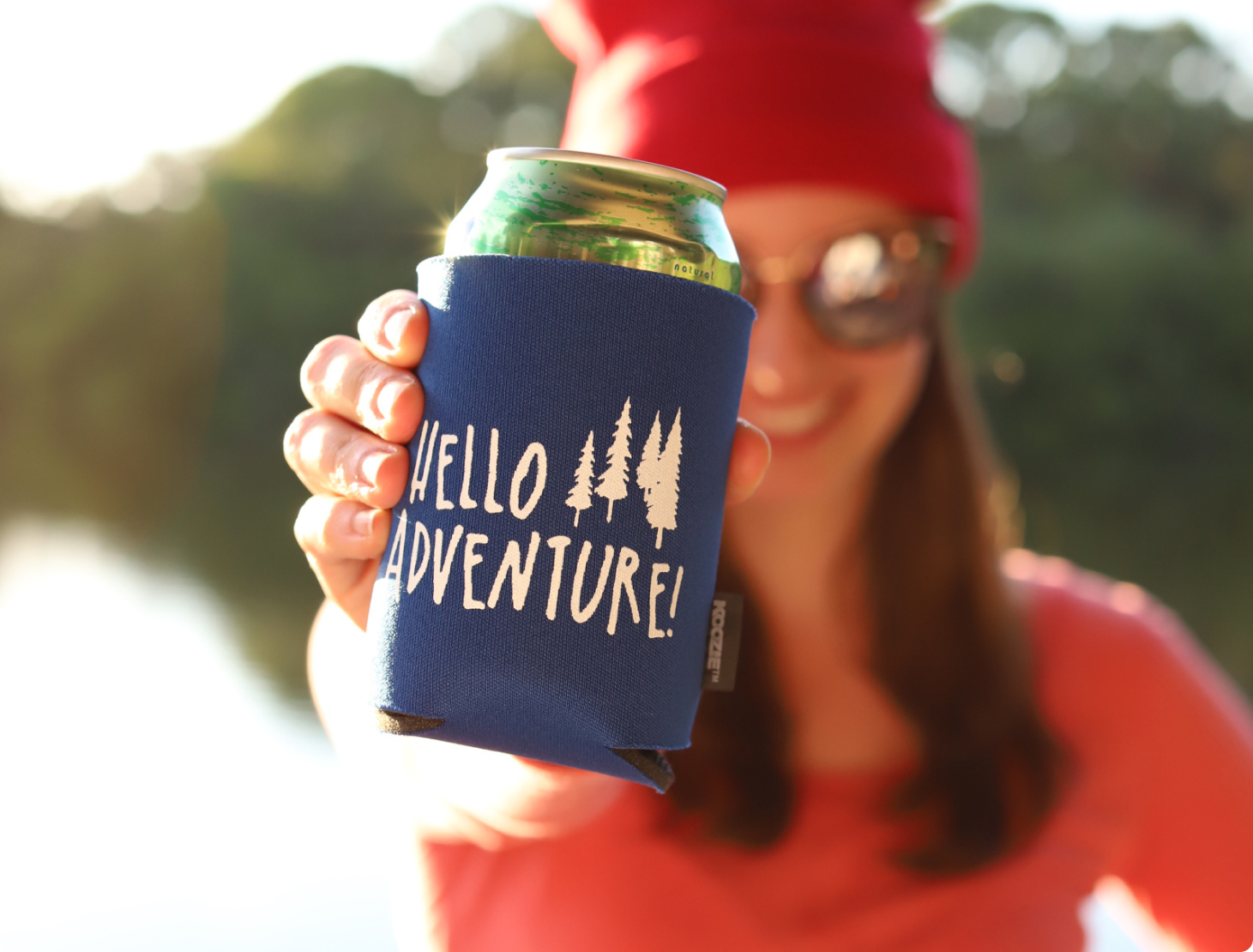 Add Quotes & Sayings to Custom Can Coolies to Create a Memorable Giveaway
It's easy to turn even the most basic koozie into a funny or sought-after giveaway with a saying such as "In dog beers, I've only had one" or "Yoga class? I thought you said pour a glass."
Our Collapsible KOOZIE® Can Kooler is made from high-quality polyester and includes a foam backing to assist with greater insulation. It's available in a wide assortment of colors and folds up for easy transportation, storage, or mailing. If you're touting a sustainability message, check out our Eco-KOOZIE® Can Cooler that keeps beverages colder and tasting great longer. It's made from at least 10 percent post-consumer foam backing with a polyester exterior to keep drinks cold and hands warm.
Some top sellers include:
Monogrammed Koozies for Weddings
Custom can coolers may not be the first thing that pops into your head when you think of elegance, but think again! Custom koozies are a surprisingly popular wedding favor as they are budget friendly, travel easily, keep indoor and outdoor events comfortable, and feature a great imprint area for the couple's names or a nuptial-related sentiment. The key is choosing a style that matches the theme of your wedding and helps set a mood.
For instance, our Sparkle Neoprene Can Cooler is made of a metallic neoprene that has an eye-catching, sparkly finish. Not only is it made with this popular wetsuit material, but it can be stitched with a thread color of your choice to match your wedding colors. Imprint your message on both sides as well as the bottom of this unique gift. Our Velvet Neoprene Can Cooler is similar in material with a velvet finish in a variety of modern colors. It can also be customized with thread color and imprinted in three areas. Burlap is an on-trend material for modern weddings that lets you combine a natural texture with an elegant font. Customize the Burlap Can Holder to create an elevated rustic atmosphere at your reception.
Here are some popular options: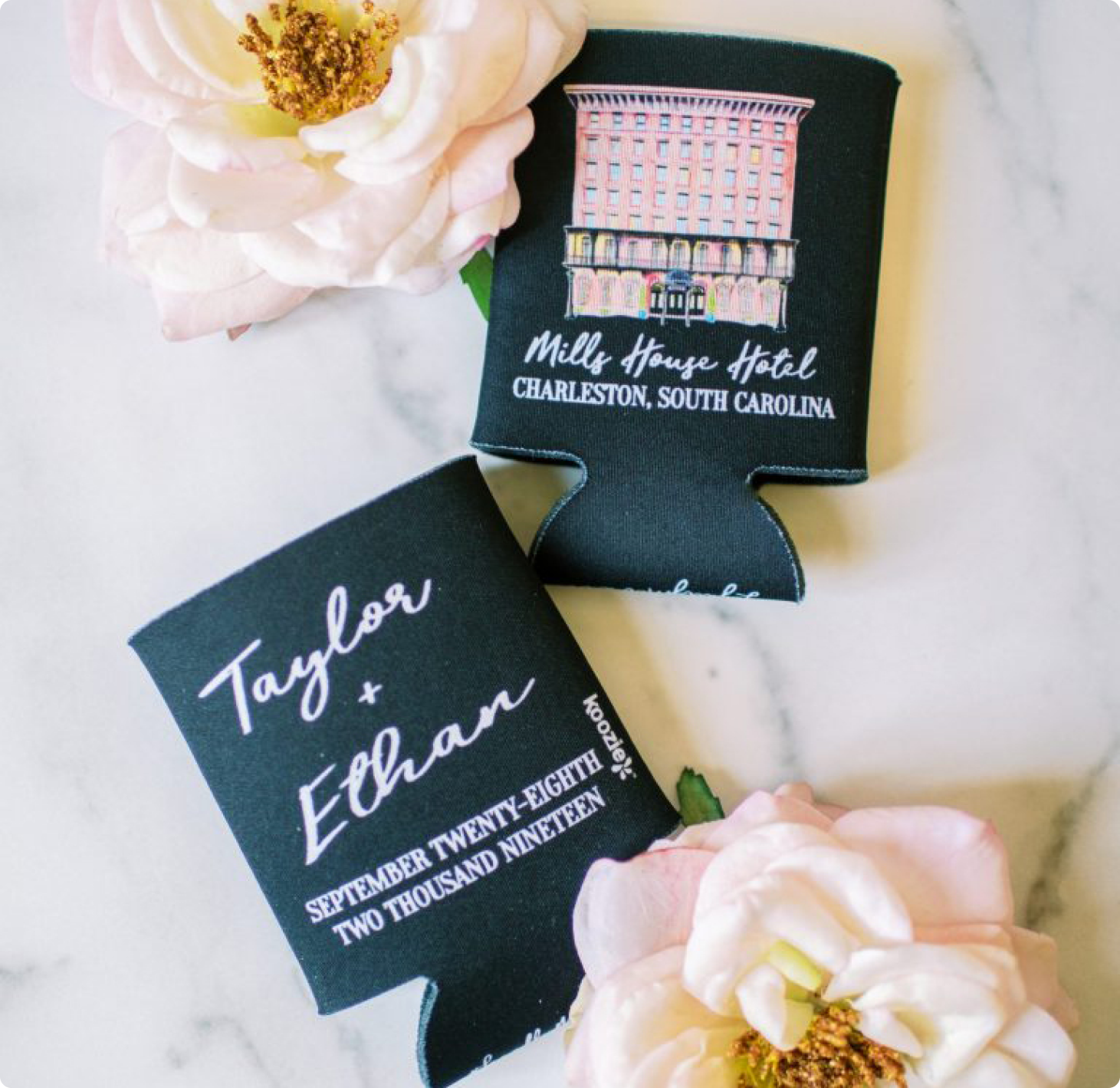 When it's time to select swag for your next company event, trade show, conference, or community party, you can't go wrong with custom can koozies. It's a giveaway that promises to be useful not only in the heat of the summer but can do double duty by insulating those hot drinks that keep everyone warmer in the winter as well. Check out all of our offerings including drinkware and other popular giveaways today.