Global GivingTuesday Nets Great Results at Geiger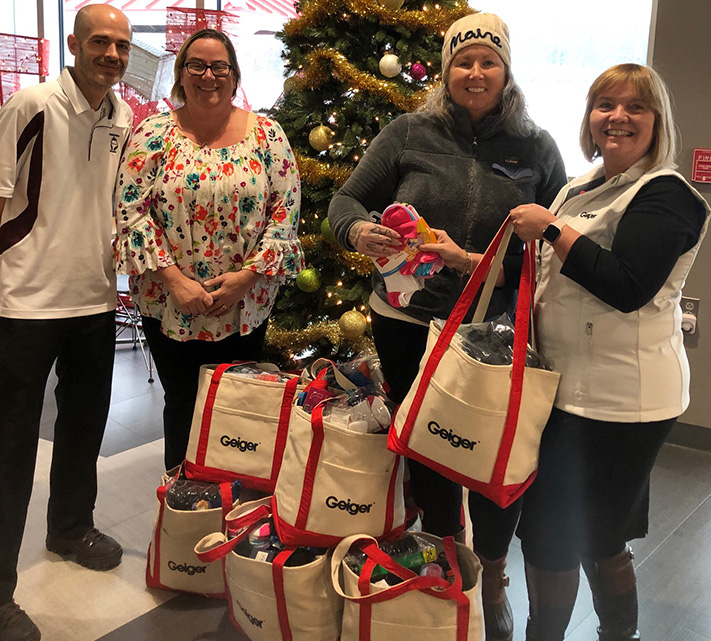 Photo: L to R, Kevin Boilard, Kaydenz Kitchen, Katie Krant and Jamie Caouette, The Store Next Door, Jo-an Lantz, Geiger President and CEO
Lewiston, Maine, December 13, 2019: On December 3, 2019, GEIGER, a leading promotional products distributor, celebrated GivingTuesday by donating to local non-profits in the community.
GivingTuesday, celebrated on the Tuesday after Thanksgiving (in the U.S.), is a global day of giving that harnesses the collective power of individuals, communities and organizations to encourage giving and to celebrate generosity. The goal is to create a massive wave of generosity that lasts well beyond that day and touches every person on the planet.
Geiger associates donated 1,165 pairs of new socks and 753 pairs of new underwear as part of the 1st annual Toasty Toes & Tushies clothing drive. These were donated to The Store Next Door Project at Lewiston High School, part of the McKinney-Vento Homeless Education Program and Kaydenz Kitchen, also based in Lewiston, Maine.
The Store Next Door Project provides tangible items to youth who are living outside traditional family systems. Since 2006, Lewiston High School has run an in-depth supplemental service to help eliminate barriers to education for youth experiencing high mobility and homelessness.
Kaydenz Kitchen, founded three years ago by 9 year old Kayden Boilard, is supported by her parents Kevin and Kristie Boilard of Lewiston. This family food pantry works to assist families in the community who experience food insecurities and also provides some basic necessities, socks and underwear being some of their top requested items.
"This cause is immensely important," states Jo-an Lantz, President and CEO of Geiger. "The need for basics (socks and undergarments) is great because so many of us don't think to donate them. I am very proud of the generosity of our associates. Participating in GivingTuesday with this drive has had a profound impact on us all."
About Geiger
Headquartered in Lewiston, Maine, Geiger is the largest family-owned and managed promotional products distributor in the world. Geiger operates from offices across the US and Europe and is affiliated with over 450 independent sales representatives. Geiger is a socially conscientious company, providing proactive, comprehensive marketing solutions to their clients.