Geiger Announces further European Acquisition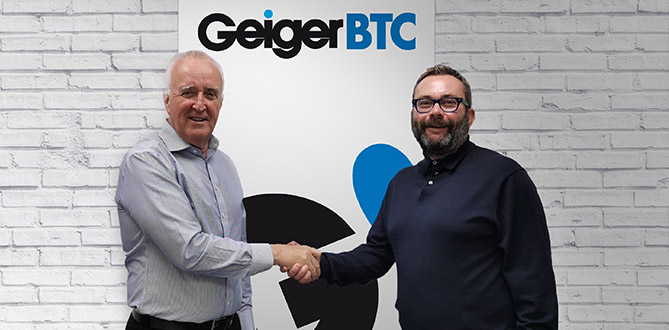 Frank Murphy of GeigerBTC and David Tysall of Response Marketing
London, UK May 14th, 2019: UK Distributor GeigerBTC (https://www.geigerbtc.com) , a subsidiary of Geiger, a multi-generational family owned and operated company in the US, announced it is acquiring York based distributor Response Marketing as part of their continued expansion strategy to support clients in the UK and across Europe.
Response Marketing has been in business since 1999 and has gained a reputation as one of the most innovative promotional merchandise distributors in the UK. GeigerBTC made the acquisition as part of their ongoing strategy to support the needs of global customers in North America, Europe and worldwide.
Response Marketing Managing Director David Tysall said, "We are really excited to become part of the Geiger family. It's a perfect marriage. Our expertise in marketing and innovation blends perfectly with Geiger's huge knowledge and global infrastructure."
"Response Marketing has a great reputation for creating innovative and outstanding marketing solutions for their clients," states Geiger President, CEO Jo-an Lantz. "David and his team will bring a wealth of experience and enthusiasm to our UK colleagues."
Frank Murphy, Managing Director of GeigerBTC adds, "We are delighted to have David and his team on board. We feel very fortunate to have found such an experienced and creatively driven partner to work with. Their location in the beautiful city of York means that more of our clients can now enjoy an even better, local service going forward."
About Geiger and GeigerBTC
Headquartered in Lewiston, Maine, Geiger is the largest family owned and managed promotional products distributor in the world. Geiger operates from offices across the US and Europe and is affiliated with over 450 independent sales representatives. Geiger is a socially conscientious company, providing proactive, comprehensive marketing solutions to their clients and is the sole publisher of the Farmers' Almanac™. GeigerBTC was founded in 1977 and is based at Hayes in Middlesex and has a staff of 76. A full-service brand marketing firm, GeigerBTC offers on-site decorating, distribution, fulfillment, web development and customer corporate programs, and employee store expertise.