GeigerBTC Expands Supplier Relations Team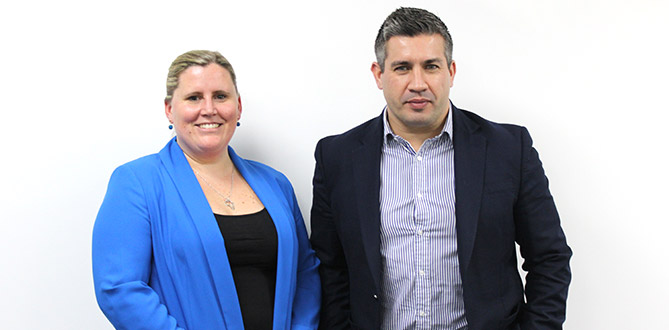 Laura Brannan and Jason Darbyshire of GeigerBTC
Lewiston, Maine March 19, 2019: Top Ten distributor Geiger announces that their UK Distributor GeigerBTC (https://www.geigerbtc.com) has expanded their team. Laura Brannan has taken on the role of Supplier Relationship Manager at GeigerBTC and will be working closely with Jason Darbyshire who joined the company as Marketing Director in 2018.
Jason commented "We have great suppliers who give us amazing support and with Laura on board we can now take our supplier relationship to a new level". Laura brings more than 6 years' experience in the promotional merchandise industry and will focus on building and maintaining stronger supplier relationships for GeigerBTC.
"The first year with GeigerBTC has exceeded our expectations," states Jo-an Lantz, Geiger's president. "Having Laura join the management team, expands their ability to support rapid growth. Her experience, coupled with her colleagues, sets BTC well for continued excellence."
Commenting on her new role, Laura said 'I am excited to join the team during this period of growth. I look forward to building collaborative relationships with our suppliers so that GeigerBTC becomes a company which, through its practices, positions itself to receive the best access to ideas, resources, and innovations from its suppliers, and that will ensure that we continue to offer the best service to our clients'.
About Geiger and GeigerBTC
Headquartered in Lewiston, Maine, Geiger is the largest privately owned and managed promotional products distributor in the world. Geiger operates from offices across the US and London, England and is affiliated with over 450 independent sales representatives. Geiger is a socially conscientious company, providing proactive, comprehensive marketing solutions to their clients and is the sole publisher of the Farmers' Almanac™. GeigerBTC was founded in 1977 and is based at Hayes in Middlesex and has a staff of 70. A full-service brand marketing firm, GeigerBTC offers on-site decorating, distribution, fulfillment, web development and customer corporate programs, and employee store expertise.