Geiger Sponsors, Provides Merchandise for the 2021 Maine Marathon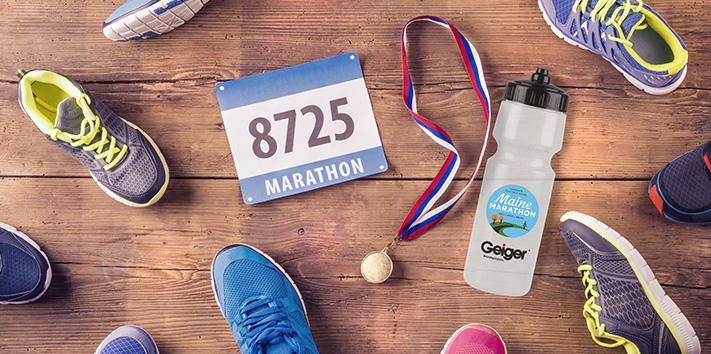 Lewiston, Maine, September 23, 2021: Geiger is proud to be a gold level sponsor and merchandise provider of the 2021 Maine Marathon, held this year on October 3rd in Portland, Maine. In addition to sponsoring the event, Geiger will manage an online store year-round for official Maine Marathon apparel and merchandise.
"For a long time, we have had a strong demand for Maine Marathon merchandise from our runners, volunteers and other supporters all over this country. With Geiger and their generous donation, we now have an online store that exceeds our expectations," says Bob Dunfey, Volunteer Race Director.
At the center of the Maine Marathon's mission is giving back to the community, both directly and indirectly. As a nonprofit race, the Gorham Savings Bank Maine Marathon donates 40% of its gross profits to charitable organizations in the community, which has added up to more than $5.4 million donated since 1997.
"We're excited to support the 2021 Maine Marathon. The event is a premier competition in Maine which benefits numerous local charities," states Chris McKee, Geiger Senior Vice President and Chief Revenue Officer. "We congratulate all of competitors and the team of volunteers that make this event possible."
The overriding mission of the Maine Marathon is to hold a quality event that runners and spectators will appreciate and support while raising funds for local Maine charities. Runners, walkers, and wheelchair athletes are all welcome and everyone who finishes is a winner for achieving his or her personal goals. The Maine Marathon is managed and organized through the generous efforts of the Maine Track Club, which is the largest running club in Maine with more than 500 members. The club was formed in 1979 as a non-profit volunteer organization.
About Geiger
Headquartered in Lewiston, Maine, Geiger is the largest family-owned and managed promotional products distributor in the world. Geiger operates from offices across the US and Europe and is affiliated with over 450 independent sales representatives. Geiger is a socially conscientious company, providing proactive, comprehensive marketing solutions to their clients.