Geiger Promotes Three IT Professionals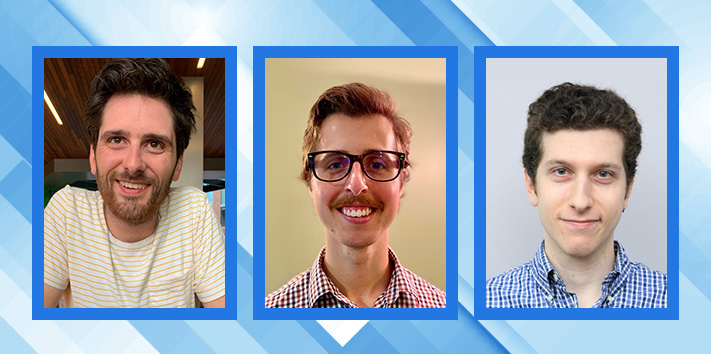 L to R: Sean Berce, Max Grover, Joeseph Turcotte
Lewiston, Maine, September 28, 2021: Geiger has promoted three associates, Sean Berce, Max Grover, and Joseph Turcotte, to new roles and responsibilities in Information Technology.
Sean Berce has been promoted to Applications Developer III. A graduate of UMaine Farmington with a bachelor's degree in Computer Science, Sean lives in Nashville, Tennessee with his wife, Lindsey. In the last few months, he finished Unbound, a 200 mile gravel bike race in Kansas, got married and bought a house.
Max Grover has moved from Business Systems Analyst II to Business Applications Manager. Max lives in Poland, Maine with his wife, Laura, and daughter, Poppy. He graduated from Wentworth Institute of Technology with a B.S. in Business Management. Max founded the Brenda Marie Foundation in 2010, a 501(c)(3) charity dedicated to helping families cover the commuting expenses associated with medical stays and visits.
Joseph Turcotte has been promoted to Applications Developer II. Joe lives in West Gardiner, Maine. He graduated from the University of Maine with a bachelor's in computer science.
Shawn White, Vice President of Information Technology said, "I am very excited about the promotion of these associates. They all have excelled and are the best at what they do. With their expertise, Geiger is positioned to drive forward with all the technological advances needed to compete now and in the future."
About Geiger
Headquartered in Lewiston, Maine, Geiger is the largest family-owned and managed promotional products distributor in the world. Geiger operates from offices across the US and Europe and is affiliated with over 450 independent sales representatives. Geiger is a socially conscientious company, providing proactive, comprehensive marketing solutions to their clients.