Geiger Promotes Four in Corporate Programs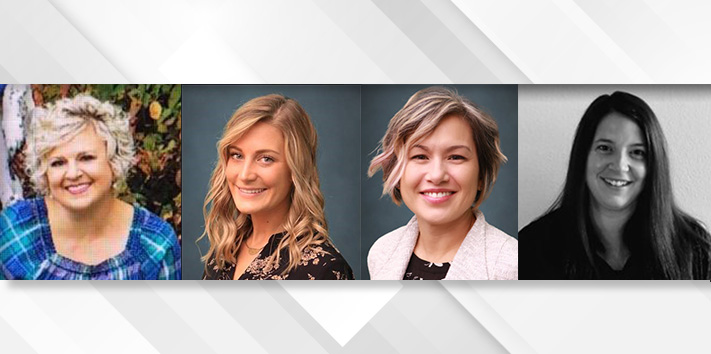 L to R: Tracey Despres, Kaitlynne Gibson, Dawn LaPrell, Julie Vickers
Lewiston, Maine, October 5, 2021: Geiger has promoted Tracey Despres, Kaitlynne Gibson, Dawn LaPrell, and Julie Vickers to new roles and responsibilities in Corporate Programs.
Tracey Despres has been promoted to Key Account Team Supervisor. A graduate of the University of Maine at Orono with a B.S. in Exercise Science, Tracey lives in Houlton, Maine with her daughter, Delaney and two dogs, Tanner and Winston. In her free time, she also teaches group fitness classes including group core, group groove and high intensity interval training.
Kaitlynne Gibson has been promoted to Senior Business Development Manager. She grew up on an apple orchard in Bethel, Maine, and earned a degree in international business from Westminster College in Salt Lake City, Utah. Kaitlynne lives in Portland, Maine and enjoys snowboarding, hiking, camping, and traveling.
Dawn LaPrell has been promoted to Director of Web & Operations. Dawn has worked at Geiger for over 20 years and is currently earning her bachelor's in computer science from the University of Maine at Augusta. She lives in Auburn, Maine with her husband, Joshua, and enjoys spending her free time with her family and gardening.
Julie Vickers has been promoted to Key Account Team Supervisor. She attended Limestone College in Gaffney, SC, where she majored in business administration and sports management and competed in division 2 collegiate swimming and soccer. Julie lives in Windham, Maine with her husband Richey, daughter Morgan, and son Wyatt and serves as vice president of the Windham PTA.
Rachelle Power, Vice President Corporate Programs said, "I am thrilled about the promotion of each of these women. Their leadership, expertise, and ability to drive sales make them uniquely successful within their roles. Our future is bright with the addition of these talented leaders."
About Geiger
Headquartered in Lewiston, Maine, Geiger is the largest family-owned and managed promotional products distributor in the world. Geiger operates from offices across the US and Europe and is affiliated with over 450 independent sales representatives. Geiger is a socially conscientious company, providing proactive, comprehensive marketing solutions to their clients.