Geiger Promotes Executives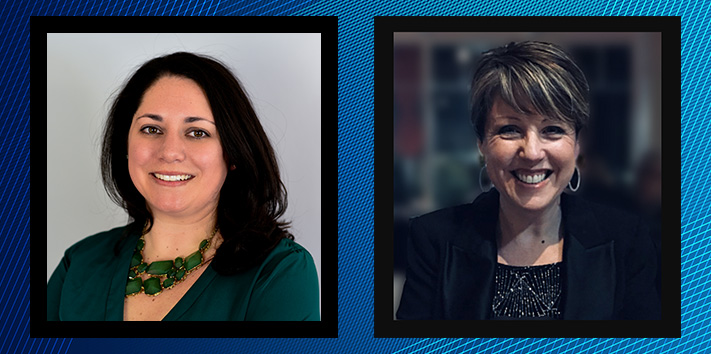 Lewiston, Maine, September 15, 2021: Geiger, a top ten industry distributor, has promoted Vicky Kinasz, Managing Director of Geiger UK, to the Executive Team and Elizabeth Fagan to Vice President of Crestline. When making the announcement Jo-an Lantz, Geiger President and CEO, stated, "Both Vicky Kinasz and Elizabeth Fagen have the leadership skills and management talent to support our company culture and growth trajectory. It will be exciting to work alongside them as they lead their respective business units into the future."
As an Executive Team member, Vicky Kinasz will work on strategic planning, policy, and overall future business growth and direction for Geiger and all business units. She will keep her role as Managing Director of Geiger UK. Prior to joining Geiger UK in May 2020, Vicky was Managing Director of the distributor agency Supremia, which included overseeing key accounts such as global beauty products manufacturer Coty. She has 25 years of experience in the promotions and merchandising industry. Her first industry job involved the manufacturing and licensing of toys. Vicky lives in Holmer Green, Buckinghamshire, UK, with her husband Jan and son James. In her spare time, she's an avid runner and enjoys coaching beginners in "Couch to 5k," to pass on her love of running.
Elizabeth Fagan, the new Vice President of Crestline, will oversee all aspects of the Crestline business unit including sales, marketing, operations, customer service, customer acquisition, eCommerce, financial performance, and customer satisfaction. Before she joined Crestline in 2019 as Director of Sales and Marketing, Elizabeth held positions as the director of marketing for the family-owned business Planet Dog, Strategic Consultant in Beijing for Mercedes Benz, and Group Strategy Director at the VIA Agency, where she managed accounts including Disney, Walmart, and Unilever. Elizabeth lives in Biddeford with her daughter Cecilia and is a board member for Heart of Biddeford, a non-profit dedicated to the revitalization and sustainability of downtown Biddeford.
About Geiger
Headquartered in Lewiston, Maine, Geiger is the largest family-owned and managed promotional products distributor in the world. Geiger operates from offices across the US and Europe and is affiliated with over 450 independent sales representatives. Geiger is a socially conscientious company, providing proactive, comprehensive marketing solutions to their clients.