Geiger Partners with the Roux Institute at
Northeastern University
The Maine-based promotional products company focuses on talent pipeline amidst rapid expansion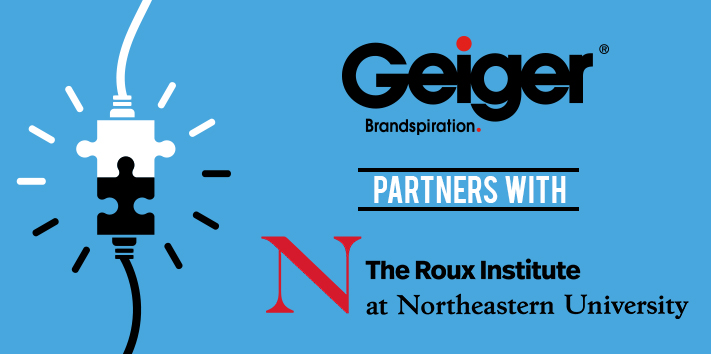 Lewiston, Maine, November 30, 2022 - Geiger, the world's largest privately held and family-owned promotional products distributor, has announced a new partnership with the Roux Institute at Northeastern University. The partnership focuses on developing and expanding upon Geiger's robust digital and analytic needs as the company continues a path of rapid growth.
This partnership will help bridge the talent pipeline between the university and its corporate partners as it includes a cooperative education (co-op) program where students can gain real-world work experience with some of Maine's top businesses.
Additionally, "Experiential Project-Based Work" will allow students to help solve business issues in real time, and a "Learning Advisory" program will help assess organizational data competency and optimize Geiger's new global business platform.
The partnership also provides a place where Geiger's associates can further their education with graduate-level degree and certificate programs in technology, project management, artificial intelligence, data analytics, and more at no cost to the associate.
"This partnership with the Roux Institute is ground-breaking and the first of its kind for a firm in our industry," said Geiger President & CEO Jo-an Lantz. "Being able to offer postsecondary education programs to our associates as one of our employment benefits will further our trajectory as the leading global company in our field."
"We are excited to use the resources provided by the Roux and were impressed by the technology and data skillsets that are available right here in Maine," said Geiger VP/Chief People Officer Janice Gray, who emphasized the importance of forming partnerships within the state.
As a leader in experiential learning, Northeastern University has a long history of aligning students' learning with employers' needs. The Roux Institute has already partnered with Maine companies like WEX, IDEXX, MaineHealth, The Jackson Laboratory, Bangor Savings Bank, and L.L.Bean to equip the state's workforce with essential tech skills, advance research and development, and help establish an innovation corridor that stretches from Boston to Portland and beyond.
About Geiger
Geiger is the largest privately held and family-owned promotional products distributor in the world. A fifth-generation business headquartered in Lewiston, Maine, Geiger operates from offices throughout the U.S. and Europe and is affiliated with more than 450 independent sales representatives. Geiger is a socially and environmentally conscientious company, providing proactive, comprehensive marketing solutions to their clients.
About The Roux Institute at Northeastern University
The Roux Institute in Portland, Maine, is designed as an engine of innovation, talent–building, and economic growth for Portland and northern New England. Partnerships set the model of graduate education and research apart. With leading companies and non-profit organizations at the table from day one, the Roux Institute creates programs that are preparing the workforce to stay agile and thrive in a competitive landscape powered by artificial intelligence. The Roux Institute, as an R1 global research university, is nurturing an environment for high-impact research and innovation in computer and data science, digital engineering, the advanced life sciences and medicine, and other tech fields. The Roux also helps entrepreneurs launch businesses focused on and powered by technology. Together, with our partners, we are creating an innovation corridor that will stretch from Boston to Portland and beyond. For more information: www.roux.northeastern.edu/