Geiger Hosted First Dempsey Challenge Duathlon 'Rest Stop'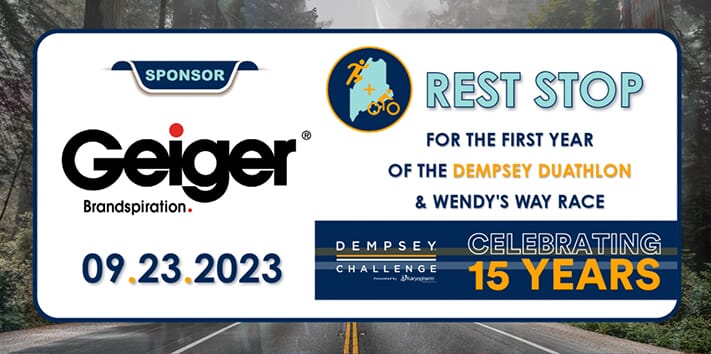 September 27, 2023 – Lewiston, ME – Geiger, the largest privately held and family-owned promotional products distributor in the world, hosted the 'Geiger Rest Stop' for the Dempsey Center's first Dempsey Challenge Duathlon on September 23, 2023. Geiger was also a proud 2023 Dempsey Challenge Sponsor and partner for the Challenge's branded merchandise and apparel.
The Dempsey Duathlon is a 25-mile course starting with a 4.5-mile run to 'Geiger's Rest Stop' where runners changed into their bike gear and cycled the remaining 21.5 miles.
"Being a part of this significant community event is important for all of us here at Geiger. We've loved partnering with the Dempsey Center over the last few years to provide branded merchandise and apparel, but now having the opportunity to bring the community into Geiger HQ as a rest stop brings it to a new level," said Chris McKee, Chief Revenue Officer at Geiger.
Dempsey Center Events Manager, Deneka Deletesky stated, "We are incredibly grateful for all of our 2023 sponsors. Geiger has been a key partner for years and being able to use their Lewiston headquarters as the rest stop for the first Duathalon worked out perfectly. It was a great way for community members to interact on a deeper level with a business that is committed to giving back."
The Dempsey Center is a non-profit organization that provides support to cancer patients and their families. The Dempsey Challenge is the center's largest fundraising event, and proceeds from the duathlon helped support the center's programs and services.

ABOUT GEIGER
Geiger is the largest privately held and family-owned promotional products distributor in the world. A fifth-generation business headquartered in Lewiston, Maine, Geiger operates from offices throughout the U.S. and Europe and is affiliated with more than 450 independent sales representatives. Geiger is a socially and environmentally conscientious company, providing proactive, comprehensive marketing solutions to their clients.
ABOUT THE DEMPSEY CENTER
The Dempsey Center was founded by actor, Patrick Dempsey, in 2008 after his mother's experience with cancer and to give back to his hometown community of Lewiston, Maine. Today, the Dempsey Center has grown to two locations in Lewiston and South Portland, Maine, a hospitality home in Portland, Maine, and has adapted to providing robust support virtually via Dempsey Connects. Their programs provide a wide range of holistic support that address the physical, functional, social, and emotional well-being of people impacted by cancer. All services are provided at no cost to cancer patients, survivors, care partners, family members, and friends. Learn more by visiting DempseyCenter.org
MEDIA CONTACT
Stephanie Whitman | Geiger
Vice President of Marketing
70 Mt. Hope Ave • Lewiston • Maine • 04240
207.755.2372 | swhitman@geiger.com
geiger.com