Executive Team Promotions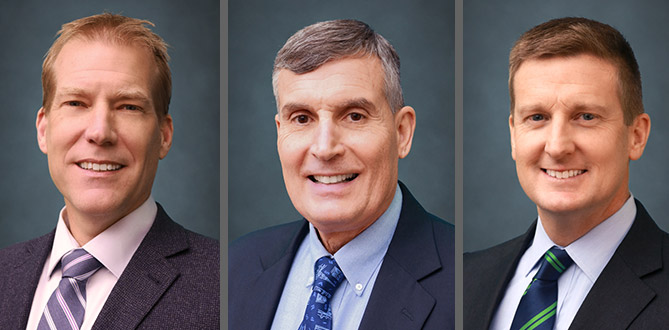 Dale Denham, Bob Blaisdell, Chris McKee
Lewiston, Maine January 2nd, 2019: Geiger, an industry top ten distributor (http://www.geiger.com), has promoted Bob Blaisdell, Dale Denham and Chris McKee to new roles and responsibilities within the executive team.
Bob Blaisdell, CPA, CMA, has been with the company since 2000 as Chief Financial Officer and Executive Vice President. He had previously worked in various financial roles in Maine, Massachusetts and Saudi Arabia. Bob received his Accounting degree with honors from Merrimack College and his MBA in Finance with honors from Washington University in St. Louis. He will oversee all operations in addition to the Finance, Legal and Compliance departments.
Bob Blaisdell states, "I look forward to my expanded role as we commit to applying continuous practices to enhance the customer experience. The customer experience includes far more than just the moment of sale, it involves all touch points during the transaction including confirming the order is correct, that it will ship on time, be billed properly, the payment process is easy, and that any claim is dealt with expeditiously."
Dale Denham has been with the company since 2011 as Chief Information Officer and Vice President. He also currently serves as the chairman of the board of Promotional Products Association International. Prior to joining Geiger, Dale was CEO of Maryland Pennysaver and Senior Vice President at the Advertising Specialty Institute. He will be responsible for Information Technology, eCommerce, Vendor Relations and Digital Marketing as well as the Crestline division.
"I love crafting the intersection of offline and online sales as I strongly believe in the benefits of both," states Dale Denham. "Some customers want to buy online, some offline and some a mixture of both. I'm enthused to further position Geiger as the leader in this hybrid ecommerce space." He goes on to say, "As customers look to the web more frequently to drive their purchasing decisions, we will work to ensure our vendors who provide the best products and the best service receive the majority of our business."
Chris McKee has been promoted to Vice President of Sales and Marketing. Chris has been with the company since 1995 working in positions with steadily increasing responsibility. He started his career with Geiger in marketing followed by five years as the Division Manager running Geiger's Miami, FL and San Juan, Puerto Rico operations. In 2001, Chris was promoted to General Manager of Corporate Programs and then in 2006 as Vice President to oversee the division's online stores, business development, distribution and call center operations for top clients. In his new capacity, Chris will oversee all sales, business development, international activities and marketing for Geiger.
Chris McKee states, "I am very excited by the opportunity in my new role to expand our business both in the US and internationally. We have an exceptional client base that will benefit greatly by our initiatives in Europe and far East." Commenting on the company as a whole, he continues, "We have a team and company culture that is second to none and I can't think of a better group to work with on behalf of our customers, Sales Partners, associates, and our local communities."
About Geiger
Headquartered in Lewiston, Maine, Geiger is the largest privately owned and managed promotional products distributor in the world. Geiger operates from offices across the US and London, England and is affiliated with over 450 independent sales representatives. Geiger is a socially conscientious company, providing proactive, comprehensive marketing solutions to their clients and is the sole publisher of the Farmers' Almanac™.