Geiger Achieves LEED Gold Certification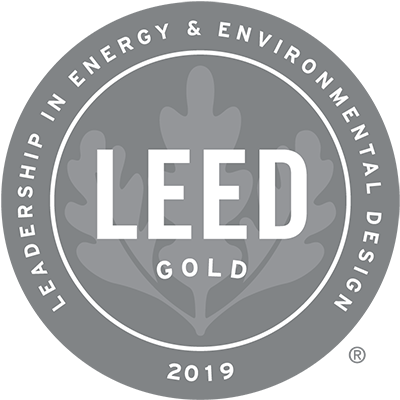 Lewiston, Maine, August 7, 2019: The US Green Building Council has announced that top ten distributor, Geiger, has been awarded LEED Certification at the Gold level for its Lewiston, Maine headquarters.
LEED (Leadership in Energy and Environmental Design) certification verifies a construction project has met or exceeded globally recognized green building standards. Companies recognized with this achievement undergo a rigorous third-party commissioning process to verify that the building has achieved its environmental goals.
In 2017 Geiger began the extensive renovation project that completely transformed its global headquarters. Of note is 696-panel solar array which generates 100% of the building's electricity. Today annual energy usage less than 40% of what it was prior to construction due to energy-efficient LED lights, super-insulated walls and ceilings, and a natural gas heating system with a 96% efficiency rating.
"We have a deep commitment to being socially and environmentally responsible," shares Gene Geiger, Chairman of the Board. "All our decisions must pass the "do what's right" test. When we planned out our new building, we knew we had to spend the time and money to ensure it was LEED certified at the highest level possible. We are proud of what we have done but know there is always more to do.""We are committed to the long-term goal of doing what is right for our customers, associates, sales partners, and production partners," states Jo-an Lantz, President & CEO, "so it's only natural we extend that same philosophy to our environment."Geiger is the industry's only 100% carbon neutral shipper, paying UPS a fee to offset the carbon used to deliver every shipment from every supplier. It plants trees in the Amazon to offset all paper run through in its company printers. For these and other efforts the company was recognized this year by the Maine Institute for Family Owned Business with its Environmental Leadership Award.
About Geiger
Headquartered in Lewiston, Maine, Geiger is the largest family-owned and managed promotional products distributor in the world. Geiger operates from offices across the US and Europe and is affiliated with over 450 independent sales representatives. Geiger is a socially conscientious company, providing proactive, comprehensive marketing solutions to their clients.