Weather Gifts & Seasonal Promos Inspired by the 2022 Farmers' Almanac Forecast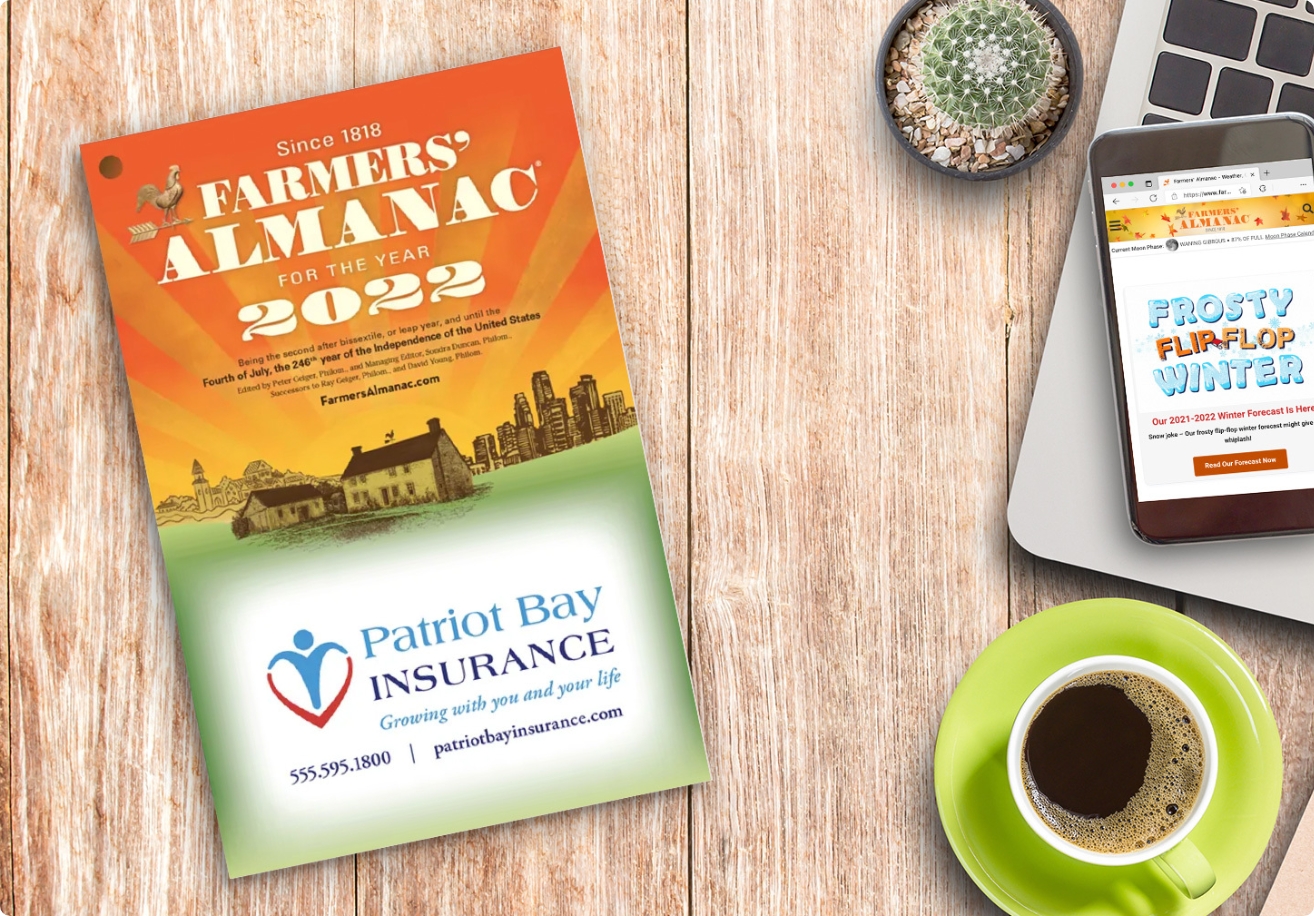 published: November 10, 2021
Read on or skip to the section
that interests you the most.
Founded and trusted since 1818, the annually published Farmers' Almanac has remained remarkably accurate in predicting long-range weather forecasts. And did you know you can add your company logo to this iconic and time-tested publication? The promotional version of the Farmers' almanac is a one-of-a-kind marketing vehicle for your brand. This 64-page edition features weather predictions, recipes, life-hacks, natural remedies and so much more. On top of that, it's recycled, made in the USA and easy to mail. With ample advertising space, you can add your logo and message to both the front and back covers. Whether used as a holiday card, a tradeshow giveaway or purchase incentive – it's a promotional item that recipients are guaranteed to keep around for a whole year.
So, what does the Farmers' Almanac predict the weather has in store for 2021-2022? And how can the Farmers' Almanac help you plan your promos for the year ahead? You'll have to order your copies to get the extended reports but read on for a sneak preview of what you can expect as well as fun weather prediction gifts.
Winter Promos
Noting to grab your gloves and fetch your fleece, the Farmers' Almanac states winter is going to be a season of flip-flop conditions with notable "polar coaster" swings in temperatures. And yes, the "B" word is mentioned – blizzards! Outfit your team to weather the storms with cold weather-related gifts like gloves, beanies, and puffer jackets. Snow gifts like ice scrapers are sure to be appreciated, as well as lanterns for possible power outages. Here are some more winter gifts:
Spring Swag
While the Northeast and Southeast states will see less than average precipitation - the Great Lakes, Ohio Valley, Midwest, and the South-Central states will see a wetter-than-normal season. You guessed it, that calls for rain gifts like an umbrellas, rain jackets and rain gauges. Check out these ideas for top spring gifts for clients and spring giveaways for events:
Sizzling Summer Swag for Employees
The Farmers' Almanac is calling for the summer of 2022 to be remembered as a hot one with spells of "brutally hot conditions." That means summer gifts for employees and summer giveaways should be focused on keeping your staff cool, protected, and hydrated. When your employees aren't working, it sounds like you'll be able to find them by a pool, at the beach or participating in other outdoor activities to stay cool. That makes summer promotional items like coolers, beach towels and hats a home run.
If you're planning an event particularly in late July and mid-August, the Almanac anticipates it to be "blistering hot" over Central and Western states. That means stock up on plenty of sunscreen, water bottles, and sunglasses. Here are some top picks for outdoor event summer promos and summer corporate gifts:
Frosty Fall Gifts
Despite the blistering summer, the Farmers' Almanac predicts autumn will average overall colder-than-normal nationwide. With the cold starting to really take hold during the end of November, give your employees and clients personalized fall gifts to keep them warm during tailgating events, apple picking, or while cozied up at home on the couch.
Life Hacks, Planning Calendars, Healthy Living & More
Though most known for their trusted weather forecasts, the Farmers' Almanac is far from just that. It's also chock-full of helpful hits, humor, and wisdom you didn't even know you needed. Let's look at some other ways the Farmers' Almanac can help you plan your seasonal promos.
Get the Garden Ready
From gardening enthusiasts to those looking to start a garden for the first time, readers of the Farmers' Almanac have long sworn by the "Gardening by the Moon Philosophy" and calendar. The calendar includes the best days for sowing, planting, and weeding – all based on the phase and position of the Moon. Add your logo to custom seed packets or planters for the perfect spring gifts.
Food Tips, Cooking Secrets & Recipes
Want to know the secret to the perfect pie crust? Seven different uses for garlic and onion skins? Or maybe a winning sweet potato recipe that is sure to impress the family this holiday season. The Farmers' Almanac has all the answers and then some! After reading the almanac your clients and employees will want to spend more time in the kitchen, so give out cooking accessories like cutting boards, oven mitts and measuring cups.
Fishing Season is Right Around the Corner
Ensure a successful day on the water with the Farmers' Almanac's Fishing Calendar. Based on the Moon phases, the zodiac sign the Moon is in, and experience, the fishing calendar educates you on the best days and time to fish. Get your employees and clients ready for the next outdoor season with custom fishing gear like bobbers, lures, coolers and more.