Custom Graduation Gifts & Ideas for Celebrating
the Class of 2021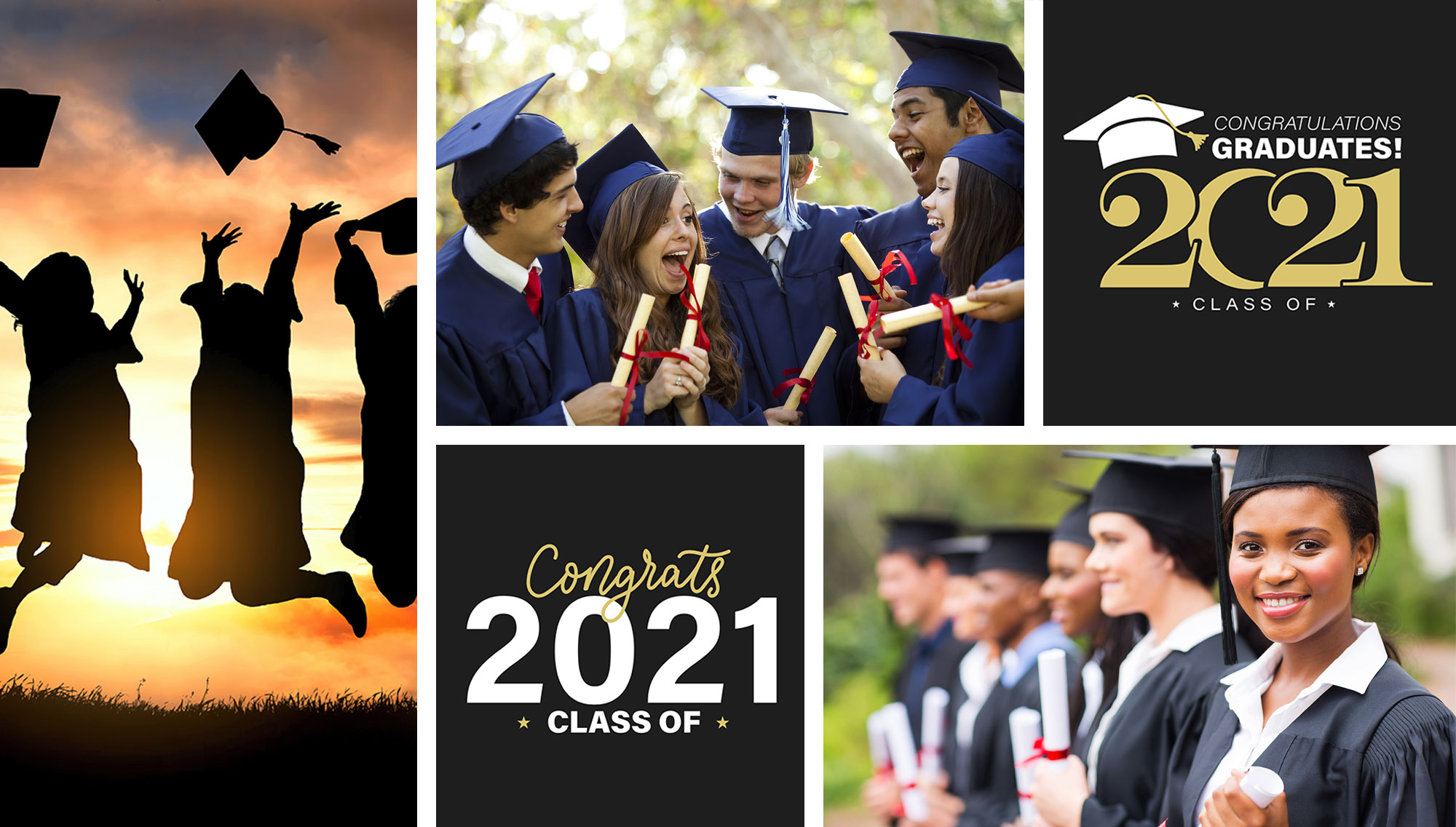 published: April 9, 2021
Graduation Day is a celebration of hard work, a farewell to fellow classmates and a toast to the road ahead. Even if you are hosting a virtual graduation ceremony this year, it's just as important to give the graduates something special to remember their alma mater by on the next step of their journey.
In fact, according to the National Federation of State High School Associations, grads who have "school spirit" perform better academically, are more engaged socially, and are happier in general than their less-spirited peers. That's right, giving departing seniors a school logo imprinted gift to feel connected to their alma mater can actually help them succeed in life.
We have solutions that make it simple to get gifts delivered right to your students' doorsteps. Our drop shipping services give you the flexibility to ship to the individual addresses of each of your students. We also offer in-house kitting that allows you to create customized gift sets including items of your choice, packed together in a cohesive way to create a truly memorable experience for the grads.
From preschool to college, graduates of all ages deserve recognition for their hard work and dedication. Here are the top graduation gifts ideas for the entire class:
The Best Gifts for Graduates
Apparel
You can never go wrong with branded apparel such as t-shirts or sweatshirts when looking for custom graduation gifts. Class of 2021 shirts are highly popular and are sure to get lots of wear over the years. Another favorite among students is the Gildan® Heavy Blend™ Hoodie that's offered in a wide variety of colors options to compliment your school colors and logo.
Drinkware
The grads may be done with school, but they're not done with coffee or staying hydrated; that makes custom tumblers and water bottles ideal graduation gifts for the whole class. The 20 oz Yukon Nova Tumbler is double-wall and vacuum insulated to keep their beverages hot or cold throughout long days at the office or all-night cram sessions in the library. Or, add your schools logo to a trusted brand name water bottle like the 25 oz Columbia® Tritan Bottle.
Yard signs
Custom yard signs have been a huge hit in honoring students and their hard work and allows them to proudly display their achievement to the community. Personalized graduation signs like the 16" x 26" Double-Sided Yard Sign feature double-sided printing in full color so the sign can easily be seen from both directions.
Picture frames
After it's all over, grads will reflect on their school years fondly. They'll miss their friends and remember the pep rallies, football games and dances. Picture frames are a gift that lets them look back on the good old days. The Glimpse Photo Frame with Wireless Charging Pad holds a photo of their favorite memory, so they can smile and remember the good times. It'll also charge their phone wirelessly. Another great option that's offered in a variety of colors to match your schools' colors is the Vibrance Frame.
Blankets
The Collegiate Sweatshirt Blanket is very popular in the education industry and makes for one of the best graduation gifts that offers a large imprint area to showcase your school logo or mascot. To make it an even more memorable gift, the signature printing option allows up to 600 students' autographs to be reproduced on the blanket. Graduates would also love the Cozy Essentials Gift Set that bundles the perfect pairing of a fleece blanket and best-selling Basecamp® Tundra Water Bottle.
Padfolios
Whether they're heading to college, grad school or the workforce, everyone could use a padfolio. The 5,000 mAh Fremont Powerbank Portfolio will help them stay organized and wirelessly charge their phone. A gift like this is going to get a lot of use, and your school logo is going to get lots of visibility over the years. Also among top gifts for college grads, the Durahyde Exec Brief-Padfolio has a professional look with plenty of storage for a tablet, business cards and more.
Tech accessories
When looking for bulk graduation gifts, tech accessories are sure to be a hit. Show the graduates how bright their future is with the Illuminating TWS Earbuds or the Illuminated Logo Bluetooth® Speaker.
Graduation gift kits
Kits and bundles make it easy for your school to reward and recognize graduates, while fostering a continued connection to the school, long after commencement. The World Traveler Backpack Bundle will send the class of 2021 off with the tools they'll need to get started in the professional world. Or, check out the Basecamp® Metropolis Gift Set that includes a custom t-shirt, cooler and water bottle.
Certificate holders
A personalized certificate holder like the Cowhide Certificate Holder ensures that your students hard work is protected and properly showcased. The Tabletop Certificate Holder makes it easy for the grads to show off their accomplishment and proudly display their alma mater. Available in a variety of materials, price points and colors, we have a custom diploma holder that's right for you.
Awards
Custom awards like personalized graduation plaques and academic medals are a must-have at graduation ceremonies for honoring students' academic achievements, distinctions, and honor societies. The Bronzed Cherry Plaque provides an elegant look with its cherry finish material and satin gold plates. Crystal or glass awards like the Lava Jaffa® Art Glass Award are also very popular with an eye-catching and modern design.
For highly personalized graduation gifts, some items can even be customized with individuals' names on them. There's an added level of excitement when receiving a gift with your name on it. Or, in addition to adding your school's logo or mascot to any of the gifts, you may choose to incorporate a fun graduation quote or saying such as "the tassel was worth the hassle", "the sky is the limit" or "congrats grads!"
Easy to Mail Gifts for Graduation
Don't let a virtual graduation stop you from giving students special gifts. Also, even if live graduation is cancelled for your high school seniors, make sure you still send students the graduation swag bags they would have received at the in-person event.
Below are some unique graduation gifts for the class that are flat and lightweight, making them easy to mail. Plus, many of these options could fit in our eco-friendly and biodegradable custom mailer bags.
In addition, we have a variety of custom promotional products that come individually in a box such as the 5" X 7" Elan Phone Frame with Custom Box or 20 oz Himalayan Tumbler with Full Color Box. These promo items arrive in a beautiful and customizable gift box that any grad would be thrilled to open.
In-Person Graduation Ceremony Essentials for Safe Celebrating
For graduations being held in-person, the top priority is keeping students, faculty, and the graduate's family and friends safe. To give the graduating class a cohesive look, purchase custom masks in your school colors and add your logo. You can also have an event tent set up with a table that has a basket of extra masks for any guests who forgot theirs, as well as individual 1 oz Gel Sanitizer bottles.
Outside of keeping everyone safe, graduations are meant for celebrating, so make sure you decorate the facility accordingly with graduation banners and signs. Consider handing out graduation gift bags or drawstring bags filled with customized swag like the Cruise Retro Sunglasses and KOOZIE® PrevaGuard Can Kooler.
Similar to 2020, some schools may choose to host graduation ceremonies in their parking lots or athletic fields, allowing family and guests to watch the ceremony from their cars. Other schools have even decided to host "drive-through" style events or graduation parades. That makes graduation swag like car chargers, car coasters and car flags unique giveaways. You can also give out noise making graduation favors like a cowbell for families to cheer on their grads.
Graduation Party Supplies and Favors
If you're hosting a graduation party, invest in personalized graduation decorations and giveaways like custom cups and hand fans that both the graduate and guests will treasure for years to come.
Don't Forget About the Teachers
Graduation wouldn't be possible without the commitment and dedication of the teachers and staff, so be sure to show your appreciation for them as well with custom teacher gifts. In fact, Teacher Appreciation Week is celebrated May 3-7, 2021, right around same the time of many graduations.