The Best Corporate Holiday Food Gifts for Employees and Clients
published: October 22, 2021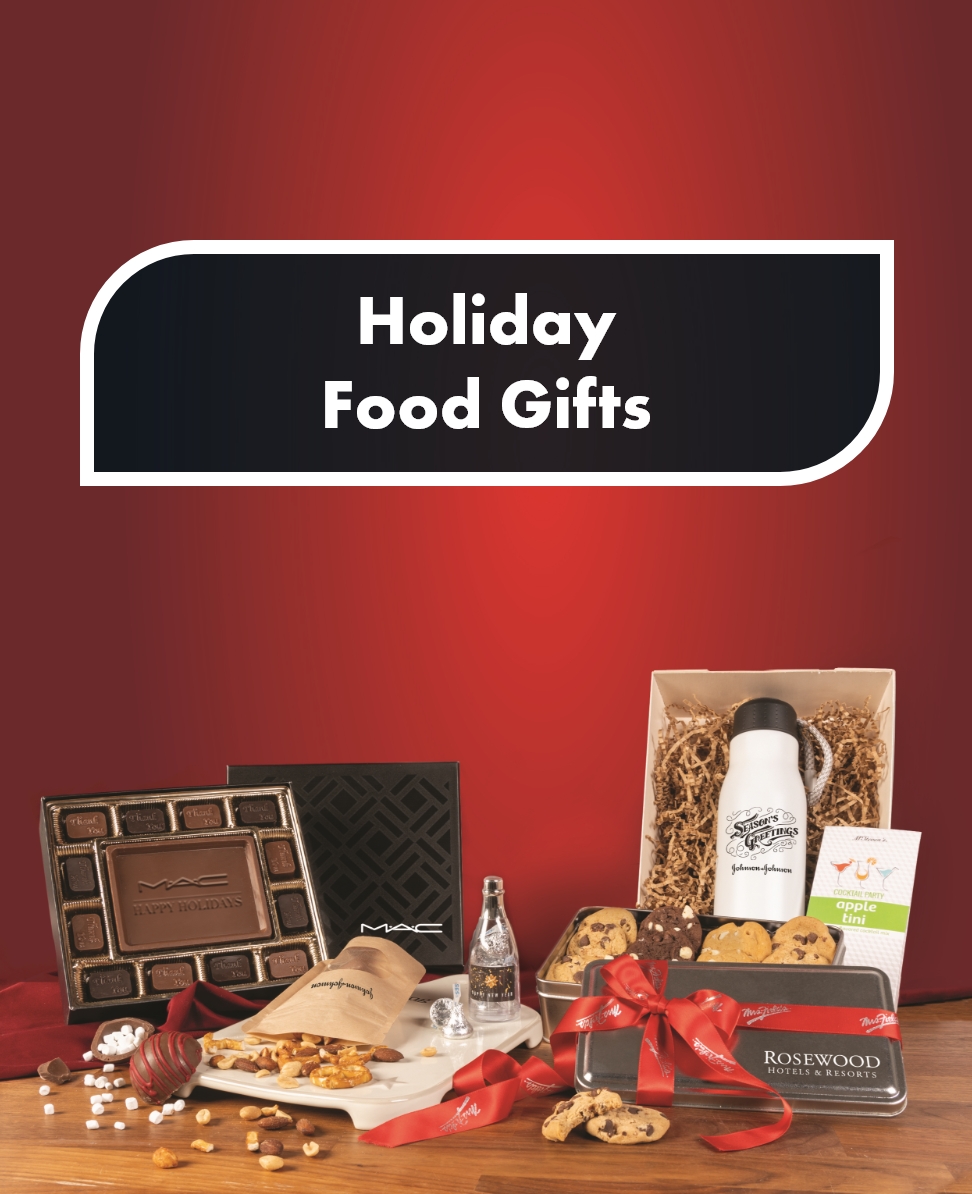 The holidays are a great time to recognize employees, reconnect with clients and reach new customers with impressive custom gifts that remind recipients about the value of your company. But what holiday corporate gifts will separate your brand during the holiday season?
There are few better options than corporate holiday gift baskets stuffed with delicious treats that will be enjoyed by all. Not only do branded snacks invigorate your taste buds, but they also bring people together for a memorable experience that will have them thinking about your business.
So, start prepping for the holidays now with corporate food gift baskets. By selecting the right food gift, you can leave a positive impression that will last beyond the holidays. Read on for great ideas or skip to the section that interests you the most:
Corporate Christmas Gift Baskets for Families
Families will be uniting from all over the country this holiday season. Help them enjoy their time together with business gift basket ideas filled with tasty treats that the entire family will enjoy.
Whether you choose appealing ice cream kit boxes or gourmet popcorn corporate gifts, these treats will leave a smile on everyone's face.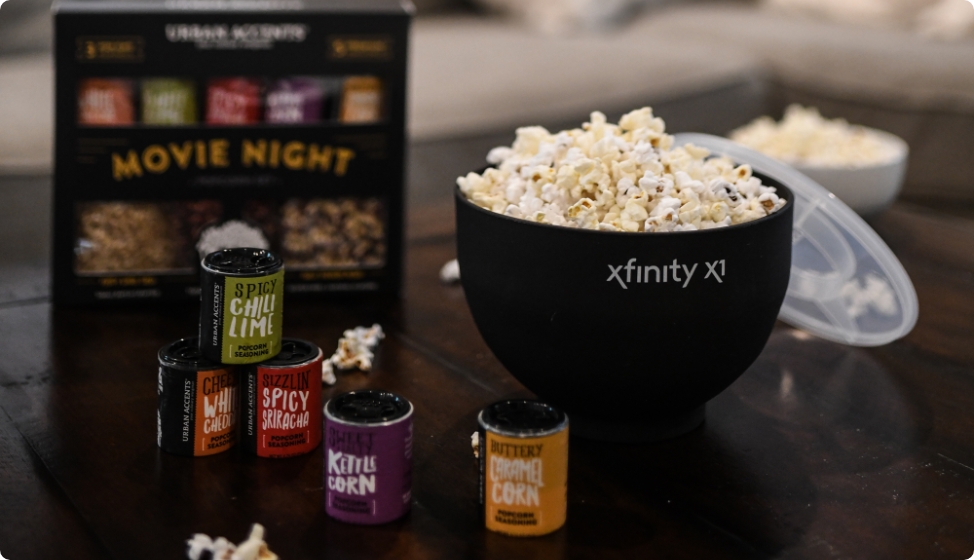 The Best Corporate Gift Baskets for Home Cooks
The holidays are a busy time for cooks who will have their hands full with making exceptional dishes for others to enjoy. Ensure their hard work doesn't go unnoticed by spicing up their week with the Taco Tuesday Night Gift Set or the Batch & Bodega Rise & Shine breakfast kit. These business Christmas baskets come with everything they need to craft a gratifying meal for themselves and their families.
Food Gifts for Entertainers
Entertainers bring joy all year long, and they're sure to have a hectic holiday season too. Corporate gifts – like personalized popcorn bags and pretzels – are a great way to help them delight their guests.
Holiday Gift Baskets for Clients
Looking for ways to get eyes on your brand? Get the attention you deserve with Christmas baskets for clients. You're sure to win them over with promotional gifts customized with your logo like the Gourmet Cookie Tin or the Godiva™ Tumbler Gift Set.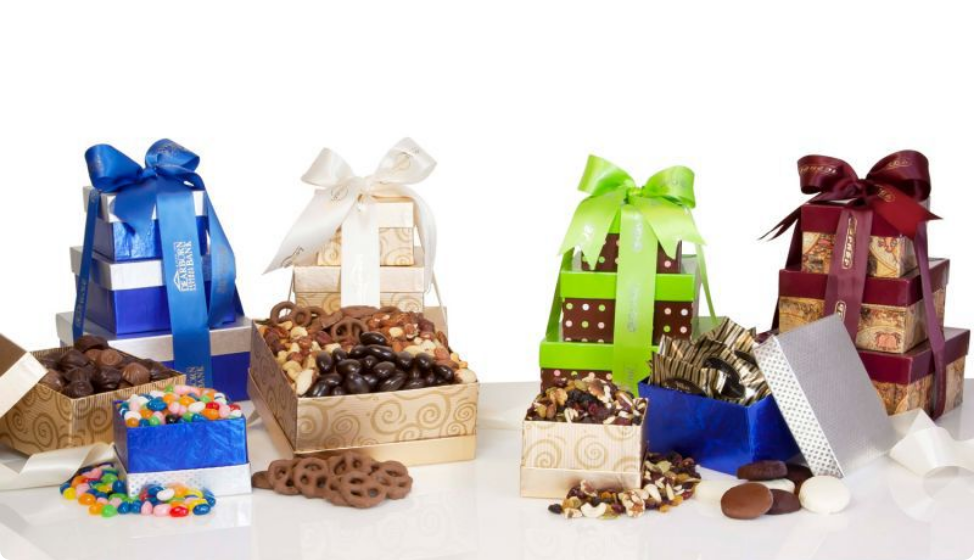 Corporate Gift Baskets for Employees
Employees are like family, and they deserve a little recognition during the holidays when they can finally relax. Show your employee appreciation by gifting out business Christmas baskets to make their time off much more enjoyable. After filling up on these appetizing snacks, they'll be fully prepared to return to work and start the new year off right.
Healthy Corporate Holiday Gifts
It can be a challenge to stay healthy when going from one holiday party to another. Encourage a healthy lifestyle while promoting your brand with healthy holiday corporate gifts like the Plant-Powered Must Haves Gift Set or the Healthy Living Kit.
Excellent gifts for nurses and those in the fitness industry, you'll receive plenty of praise from recipients for helping them maintain their health during the holidays.
Gifts with a Conscience
Ensure your food gifts have a purpose with eco-friendly or charitable holiday gifts that give back like The MiiR ® Commuter that provides 3% of their revenue to trackable giving projects. By promoting with business gift baskets you can be proud of, your company will be part of the movement for a better world.
Easy-to-Mail Gifts
Foodies will rejoice when they receive gourmet corporate gift baskets in the mail. These delicate snacks are a great way to recognize remote workers or out-of-state clients who won't be able to attend holiday parties in person.