Welcome, Engage & Appreciate with
Employee Gift Boxes & Company Swag Bags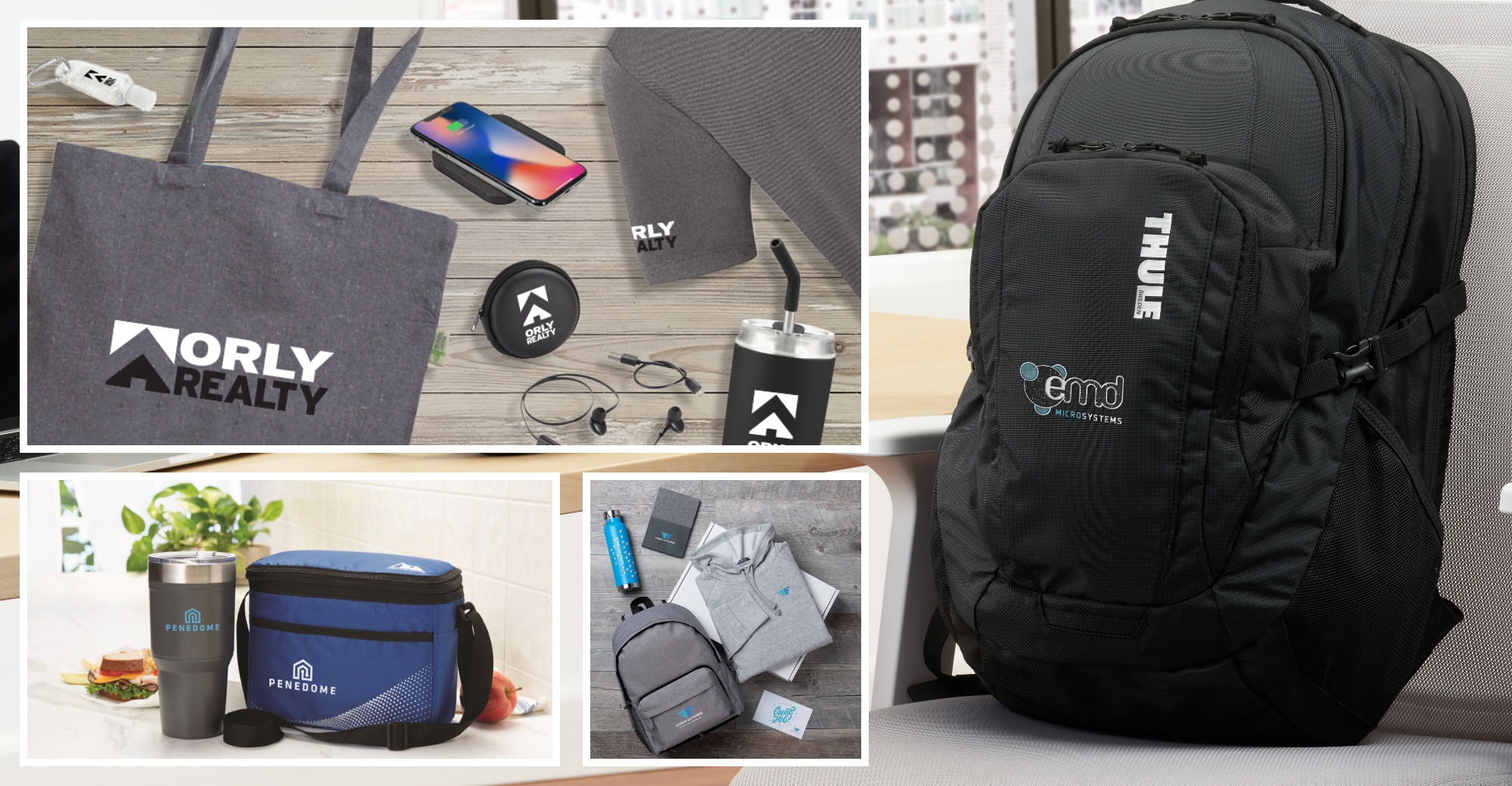 published: March 25, 2022
Employees are the backbone your business, and their efforts deserve recognition. That's where corporate swag bags come in – the perfect way to remind them of their value to the company. After all, unique employee swag ideas can help build team culture, show appreciation, retain top talent, increase employee engagement, and show off your brand.
Sure, there are other ways to honor employees, but company swag bags have benefits you won't find elsewhere. They're not only great fun to dig into but also easy and convenient to mail out to individual's homes. Employee gift boxes are also a convenient way to supply your team with multiple useful items all at once.
From welcoming new hires to outfitting remote workers, here are some of the top company swag ideas to get you started.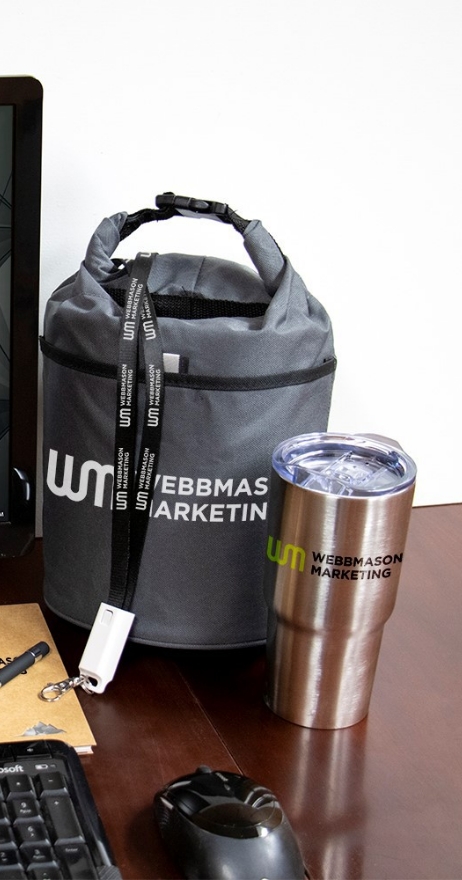 New Hire Swag & Onboarding Gifts
It takes recent hires a minute to get adjusted to their new positions, but you can kick start the process and introduce them to company culture with new hire swag boxes and kits that create a warm and welcoming experience.
Give them all the supplies they need to get started with our Great 8 Essentials Gift Set packed with eight impressive gifts like the Muse Notebook and Stylus Pen Set, or cater more specifically to tech lovers with the Tech Backpack Welcome Kit featuring gadgets they'll be ecstatic to receive.
Team-Building Apparel Kits
You don't have to worry about company morale getting low with the right team-building tools in place. Put company logo apparel at the top of your list of corporate swag ideas if you want to foster a sense of pride and engagement among your staff. Instead of replicating the exact branding on your website or packaging, consider creating versions of your logo that look modern and stylish on clothing. It's a small effort that will pay off big in publicity when your corporate apparel actually gets worn around town. What's more, you can increase productivity by giving your team cool company swag they will appreciate.
Using branded swag – like the Three-Piece Event Combo featuring three thoughtful items – is a great way to bring your employees together and ensure they get the most out of their work experience. Here are some other top ideas to unite your team: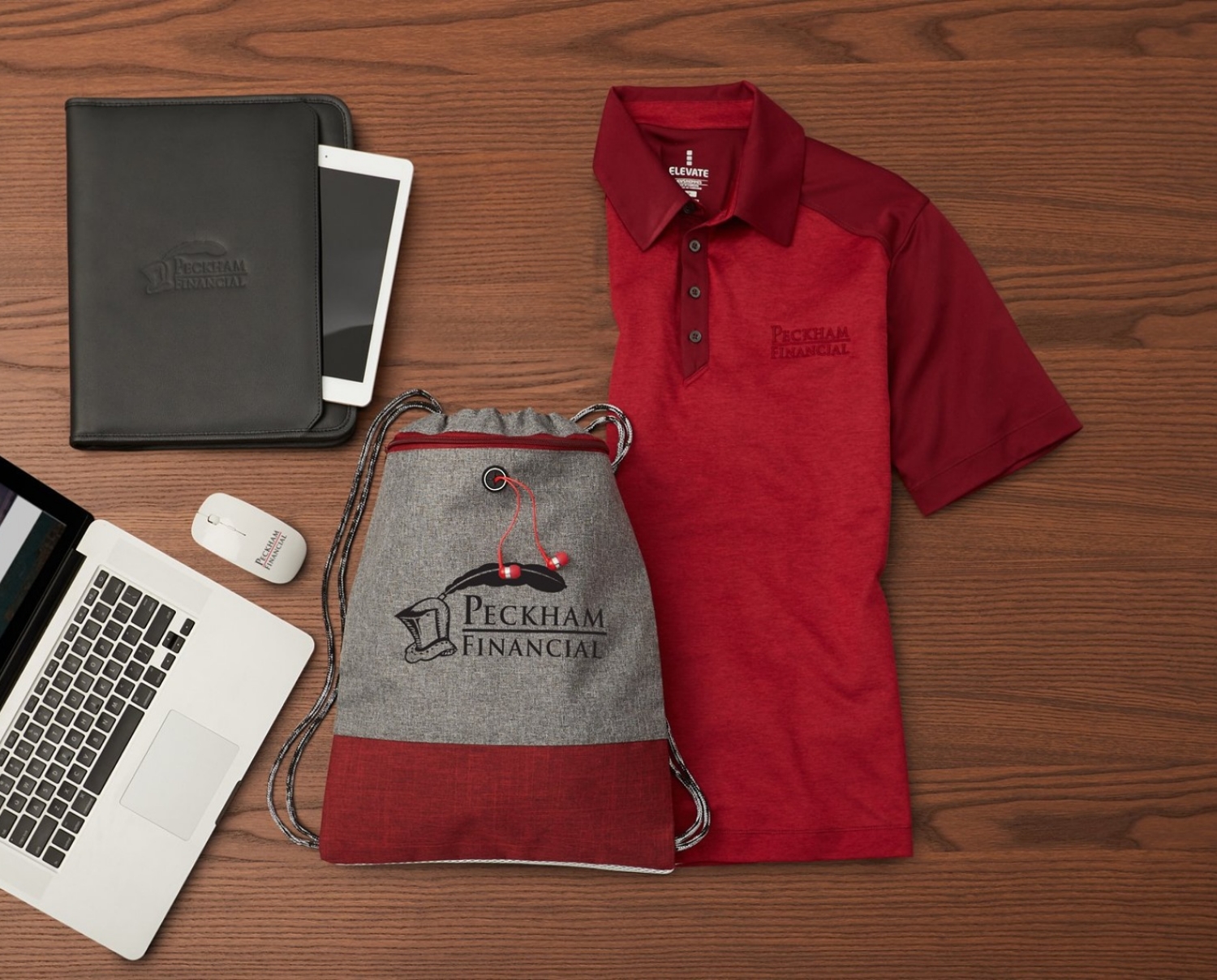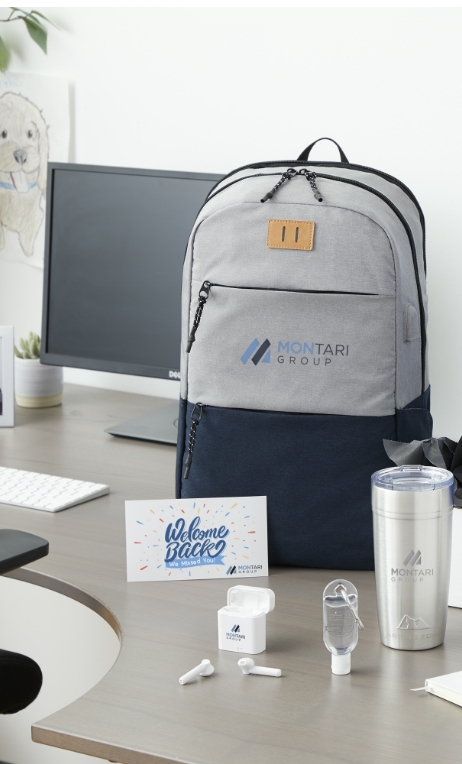 Back to the Office Swag Gift Sets
Whether employees are coming back from a holiday break or re-entering your offices spaces after pandemic related remote work arrangements, welcome them back to the office with the best company swag for employees. They will be ready to jump back in when they receive any of these workstation enhancing employee gift sets:
Lunch Bag Swag
Employees who take lunch breaks are more likely to come back engaged and ready to finish the day strong. You can encourage staff members to take some time for themselves during the middle of the day with company logo swag. Bonus – reusable lunch totes and sets encourage healthy and economical home cooking while they replace disposable lunch bags.
Make lunch more than just a midday break with the Perfect 3 Gift Set that not only includes a lunch box and tumbler but also features a notebook and pen set for journaling, or peruse the range of lunch bag swag we offer to give your employees the boost they need: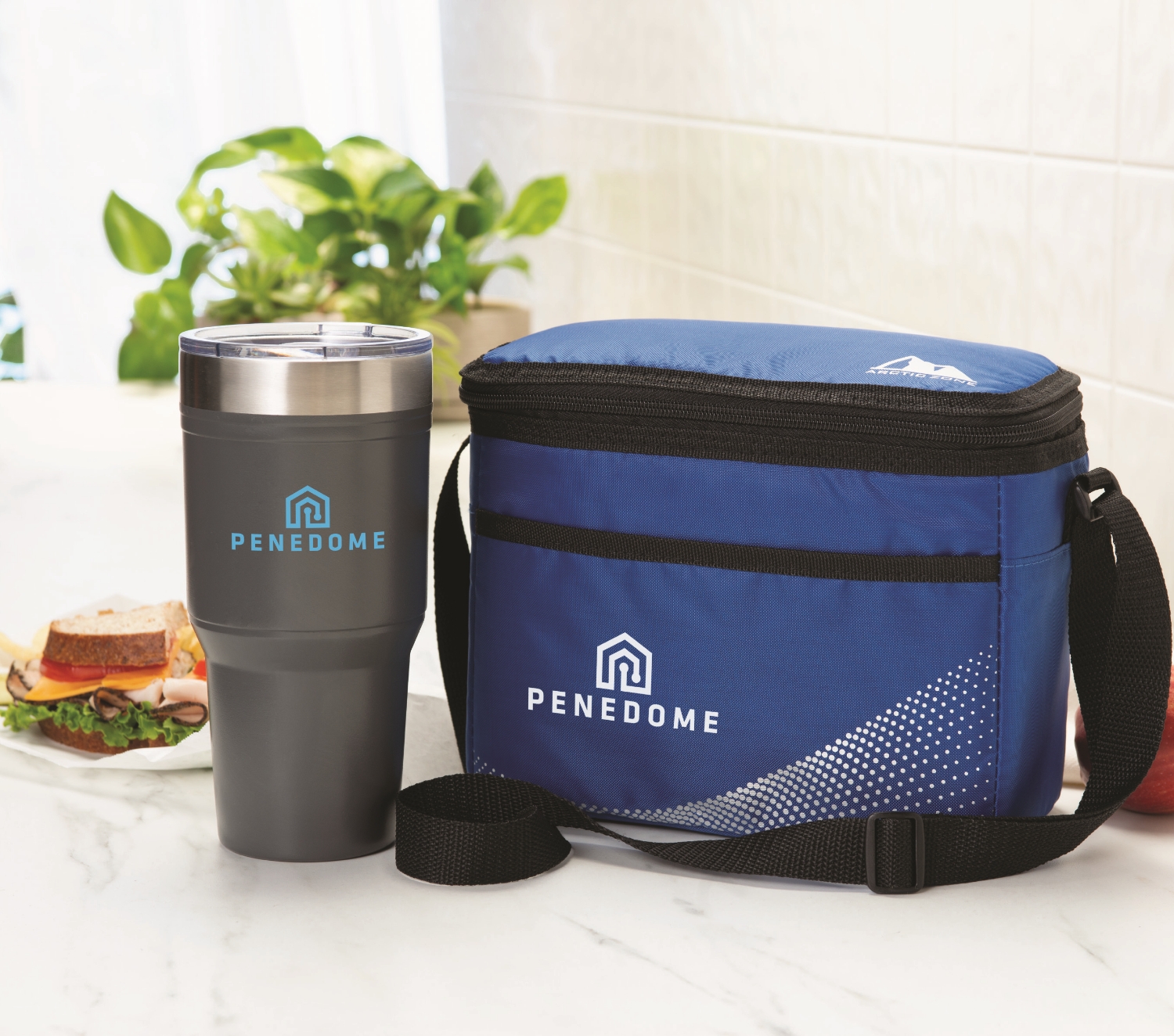 Work From Home Gift Baskets, Kits & Boxes
As more companies transition to remote work, they will want to find ways to keep workers engaged from the comfort of their homes. You can light a spark with work from home swag that's sure to impress while also getting your company logo in front of employees on a daily basis, reminding them of the quality team they are a part of.
Check out some of our top work from home company gift boxes like the Home Office Essentials kit that has everything you need to set up a successful home office:
Company Swag for Hybrid Employees
Though hybrid work is nothing new, more workplaces than ever are moving to a hybrid work model. You can ensure your employees are prepared for these changes with the best company swag for the home office, on-site desks, and the commute in between. Gifts like the Office-to-Go Kit make it simple by providing the office swag they need to perform their jobs successfully wherever they are.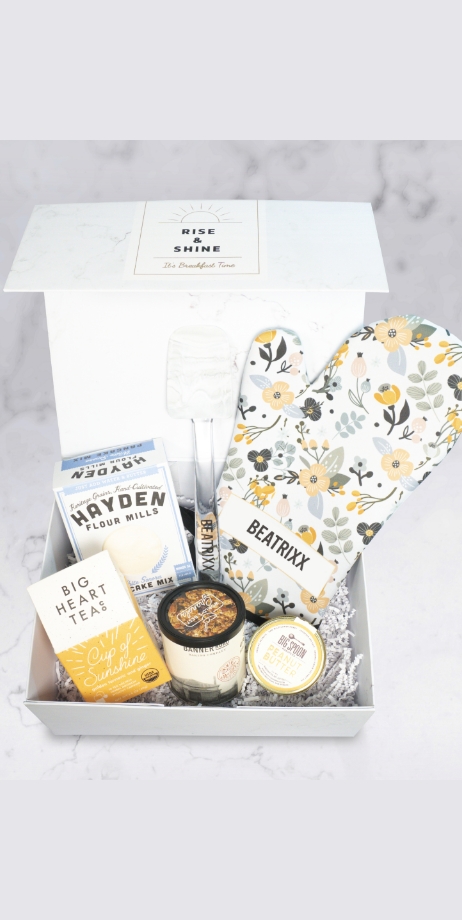 Employee Care Packages
The busy season can be draining on any worker, and it's important to remind your staff to take some time for personal care. Give them the reminder they need with employee swag boxes that promote happiness and encourage self-care.
Whether you choose the Healthy Living Kit packed with a range of wellness gifts from healthy snacks to resistance bands for a quick workout that will have the endorphins flowing or the Batch & Bodega Hello There Gift Package stuffed with delicious treats, employee care packages are a great way to let employees know how much you care about their well-being.
Employee Appreciation Boxes
From Employee Appreciation Day in March to Labor Day in September to all the other employee appreciation holidays, there's never a bad time to let your employees know how grateful you are for their hard work and dedication with employee gift boxes filled with corporate swag imprinted with your personal message.
These company logo swag ideas are the perfect place to find gifting inspiration: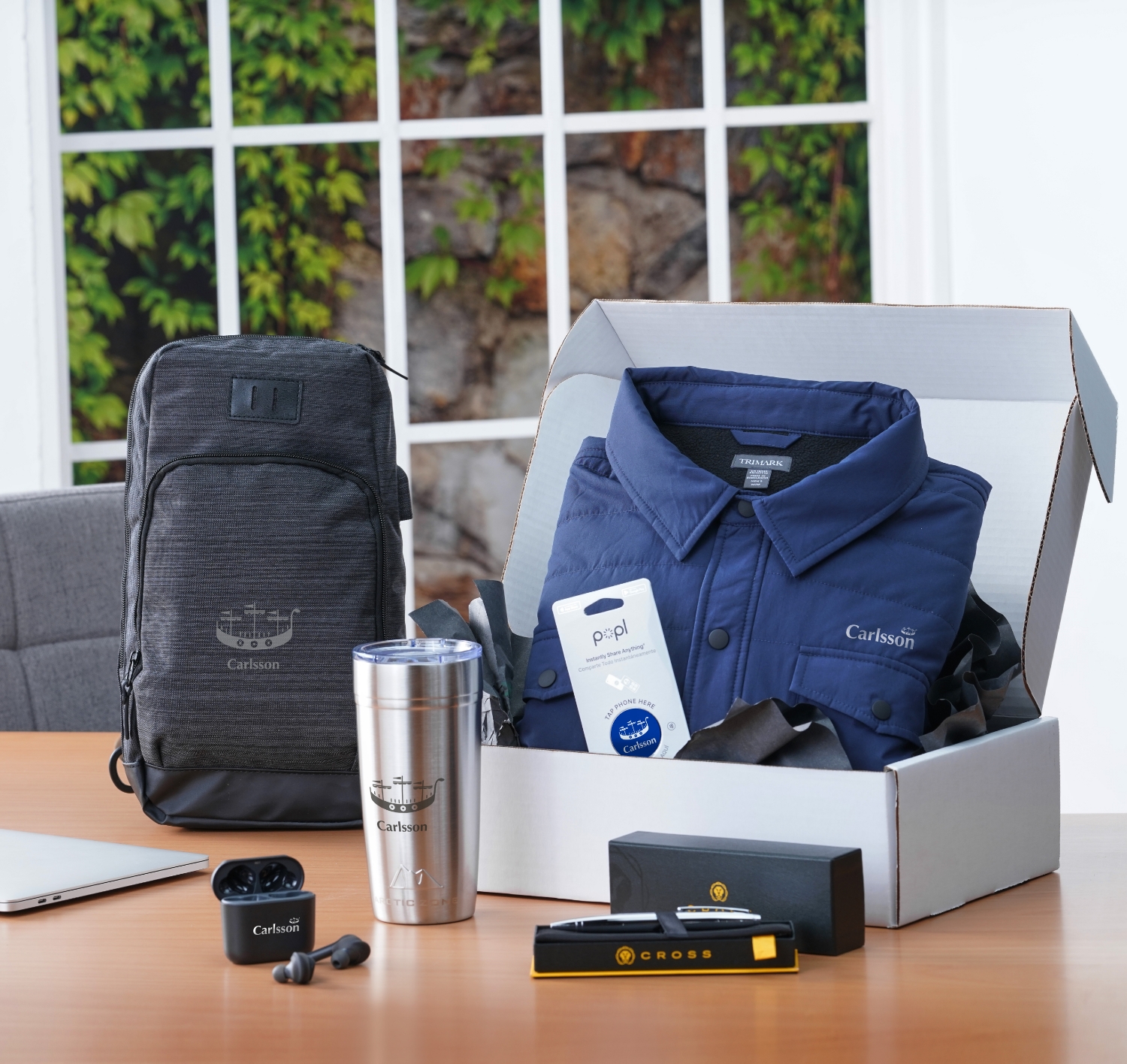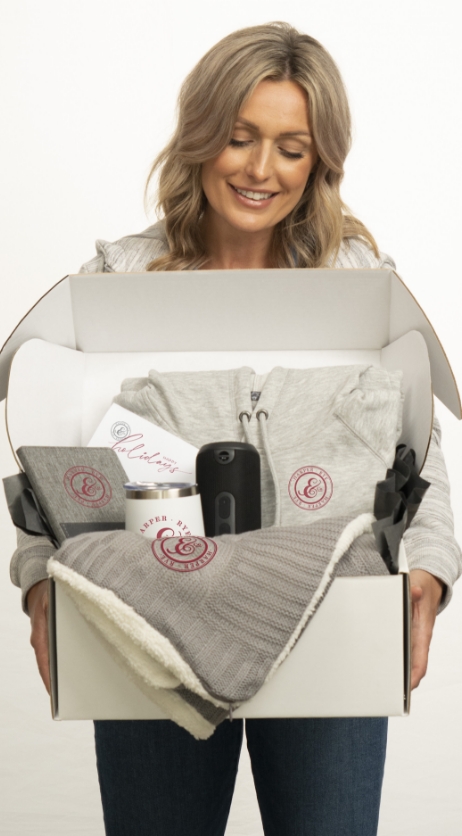 Employee Holiday Gift Baskets
As your company gets ready to celebrate the holiday season this year, spread the cheer with employee gift baskets staff members will be thankful for. With the right employee swag, your brand will be at the center of any celebration.
Since food and beverages are some of the most popular gifts during the holidays, customizable snack boxes and other delicious treats like the Easy Bucket BBQ Set are sure to be a huge hit.
Corporate Event Gift Bags for Employees
Whether it's an annual meeting or banquet to recognize sales and give out awards, employees will be proud to receive thoughtful corporate gift bags as a reward for their achievements, and your company will reap the benefits when your staff comes back with even more motivation to outperform going into the next quarter.
Packaged in a reusable drawstring bag, The MiiR® Commuter will have employees ready to rock, or give them a reason to continue to shine with the Luxe Living Kit designed with impressive metallic accents.
Reward your staff with these employee gift bags they will be proud to own: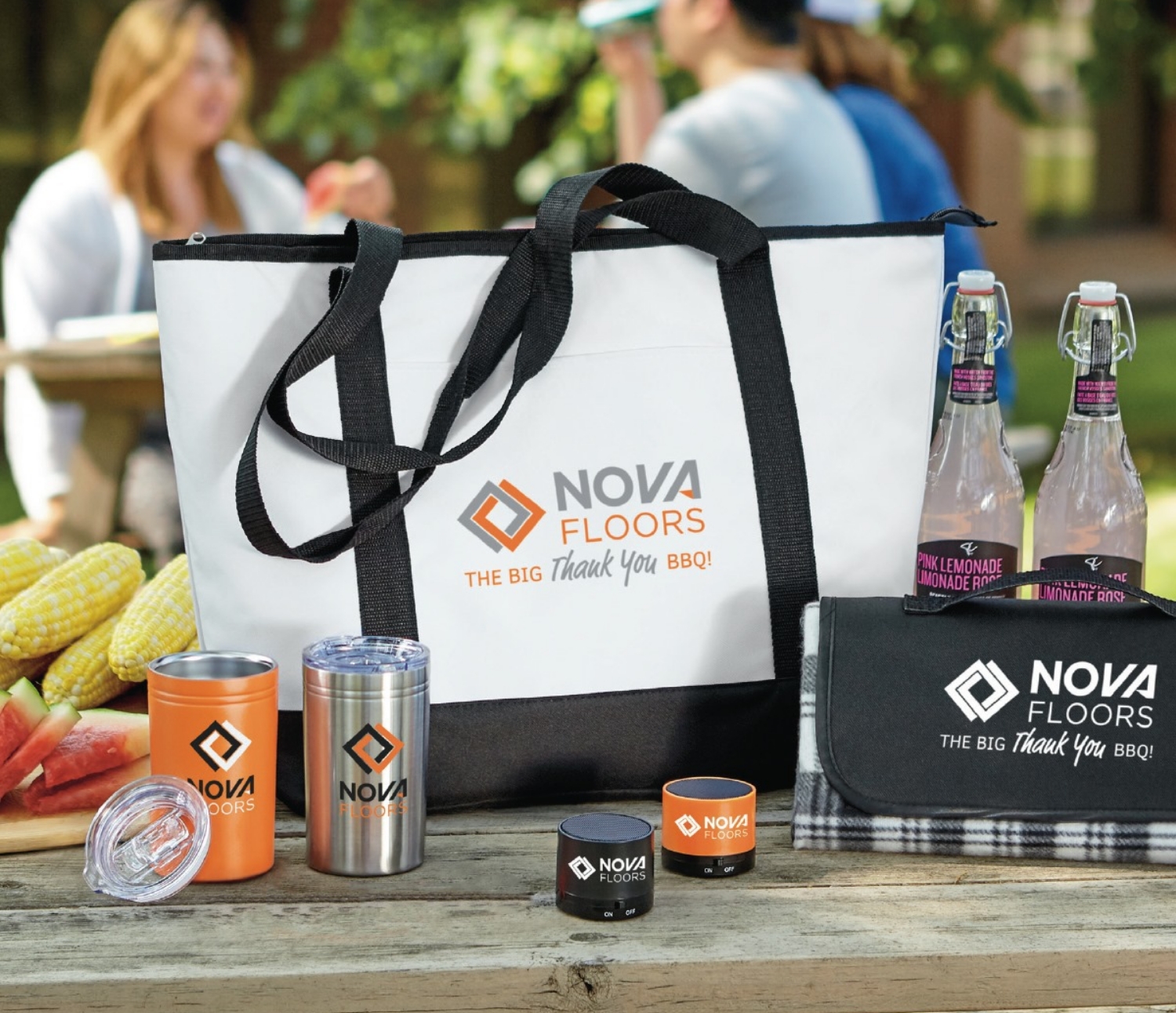 Staff Anniversary Swag Bags
Celebrating an anniversary for your employees? Show them you remembered that special day and remind them of what they love about the company with corporate gift bags that provide motivation for another successful year.
Any of our employee anniversary swag bags – like the You're Appreciated Snack Bag – are a great way to celebrate employees: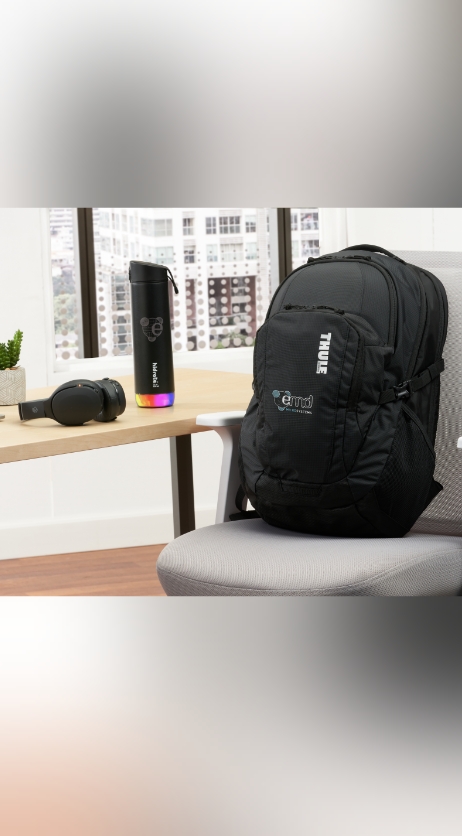 Swag Bags for Business Travelers
From packing up the car to visit a regional distribution center to booking a plane ticket for a business presentation across the country, traveling puts a lot of stress on employees, but you can make their trips easier with corporate care packages made specifically for those on the go.
Get their journey started with the Travel Accessories Bundle featuring four bold travel accessories to keep them organized along with any of our other travel sets: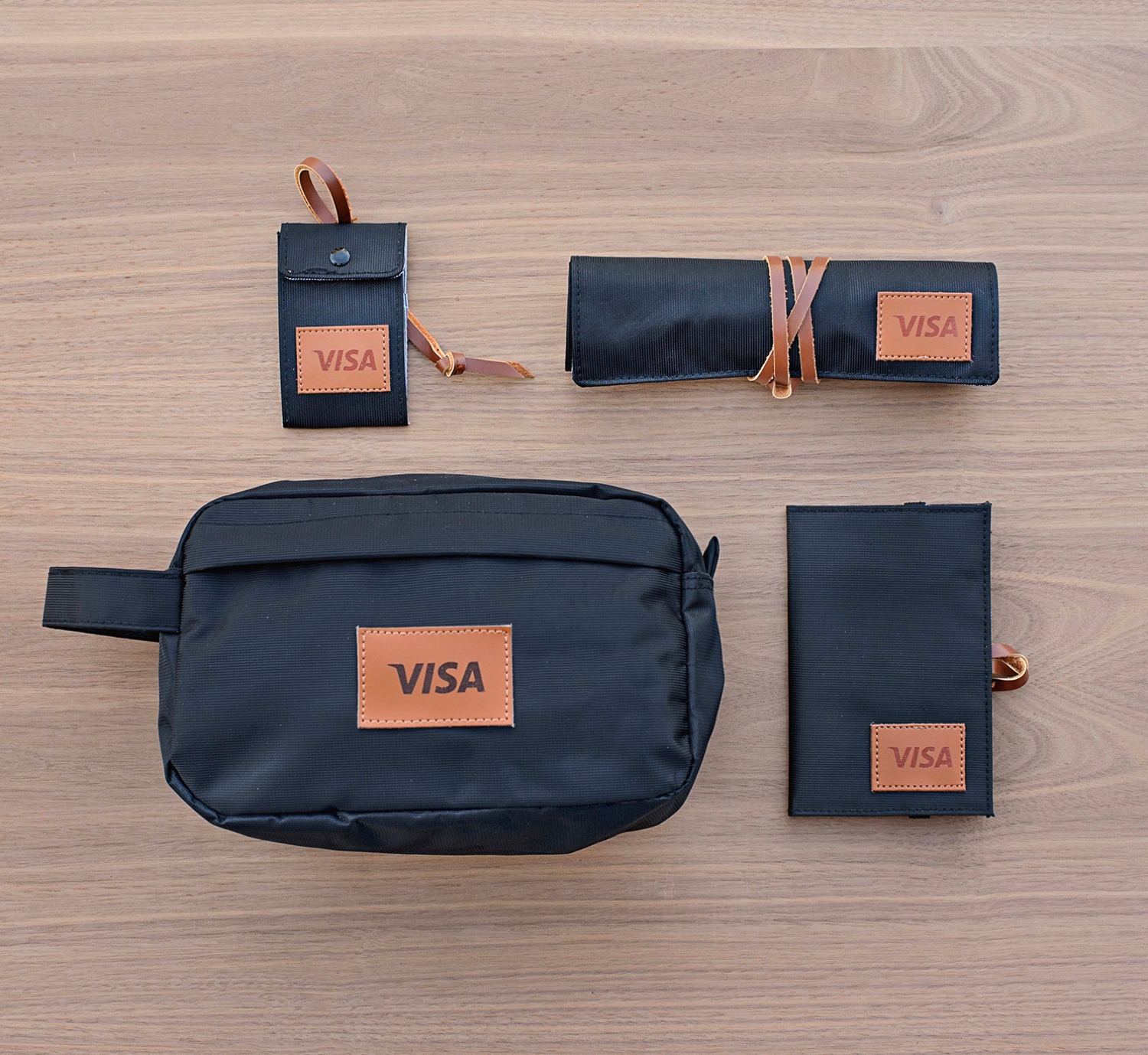 Looking to create your own company swag bag for employees? Use our Kitting, Drop Shipping & Personalization Services that allow you to select products and personalize them however you like, then we ship them for you!