Encouraging Autism Awareness Month Activities
for Schools & Businesses

published: November 29, 2022
Autism Awareness Month is a worldwide event that takes place every year in April to increase understanding and acceptance of people with autism through stories and education. To create a more inclusive environment, national organizations encourage participants to come up with Autism Awareness Month activities for schools, businesses, community centers and more. By eliminating the stigma around autism, everyone can gain a better perspective on how people with autism learn, interact, and communicate.
There are a ton of autism awareness activities for students and adults that encourage everyone to increase their understanding. From showing support with buttons and pins to educating with awareness giveaways, here are some popular ways to celebrate Autism Awareness Month.
1. Wear Blue
Wearing blue sits at the top of the list of Autism Awareness Month activities because the color is a celebration of people on the spectrum. Encourage everyone to unite around the cause by giving out custom t-shirts, which are great autism awareness activities for adults and kids to show support. Don't forget to take a group photo to display unity in your school or business!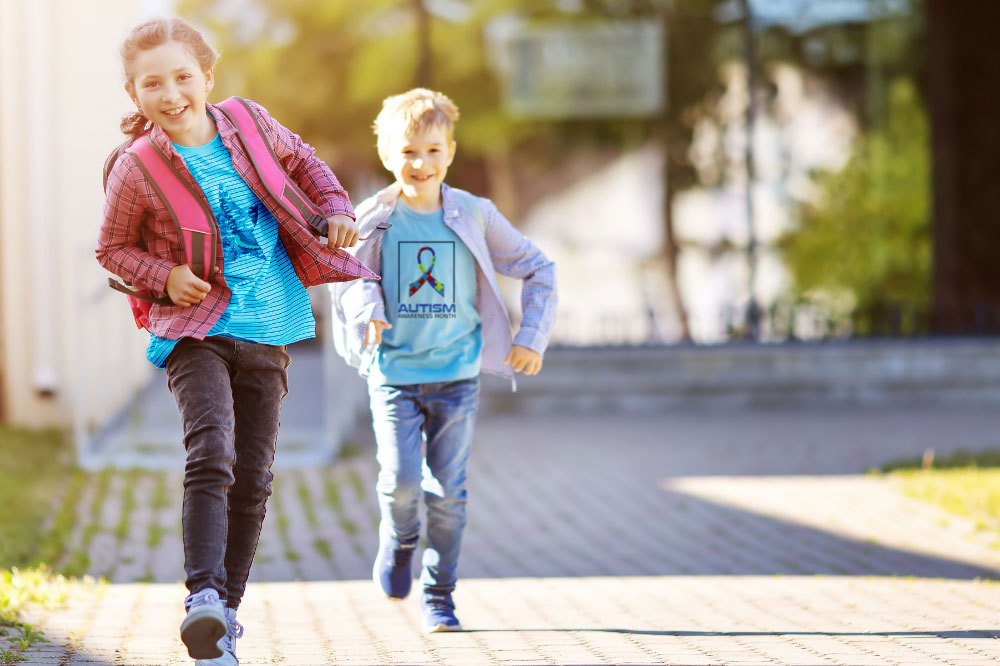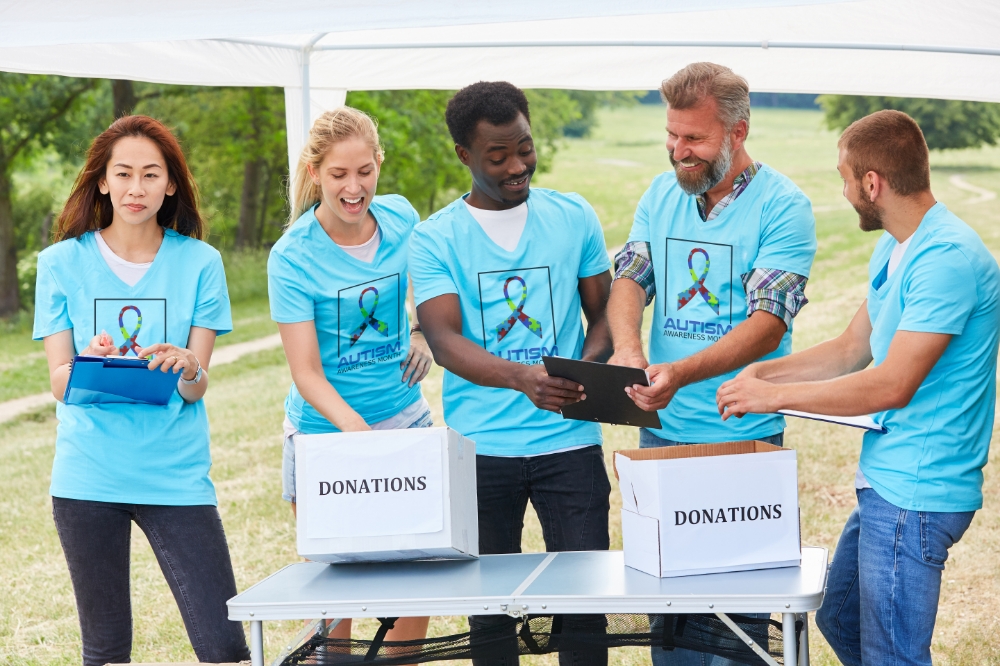 2. Host a Fundraiser
There is still a lot to learn about autism, so one of the best autism awareness ideas is raising funds for autism research and education. Get people involved by hosting a 5k autism awareness walk or run, selling autism awareness merch like tumblers, awareness bracelets, and hats. You can also organize a group from your workplace to participate in autism awareness activities for adults like existing regional 5k runs.
3. Give Out Sensory Toys
Maintaining focus can be a challenge for children with autism, but luckily, it is a skill that can be developed over time. Fidget toys help build focus on a single task while also offering an outlet for stress relief and stimulation. Popular fidget toys like the Tangle® Mini Puzzle that twists and turns into fun shapes or the Pop It Fidget Toy Circle that builds focus by pressing down different bubbles provide hours of endless fun, making them excellent Autism Awareness Month ideas.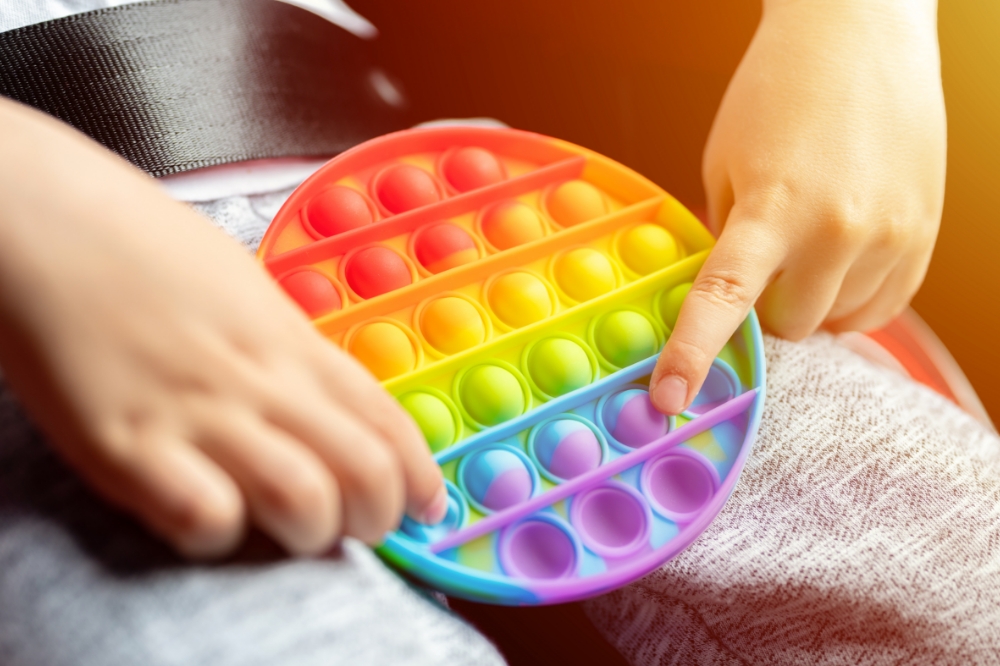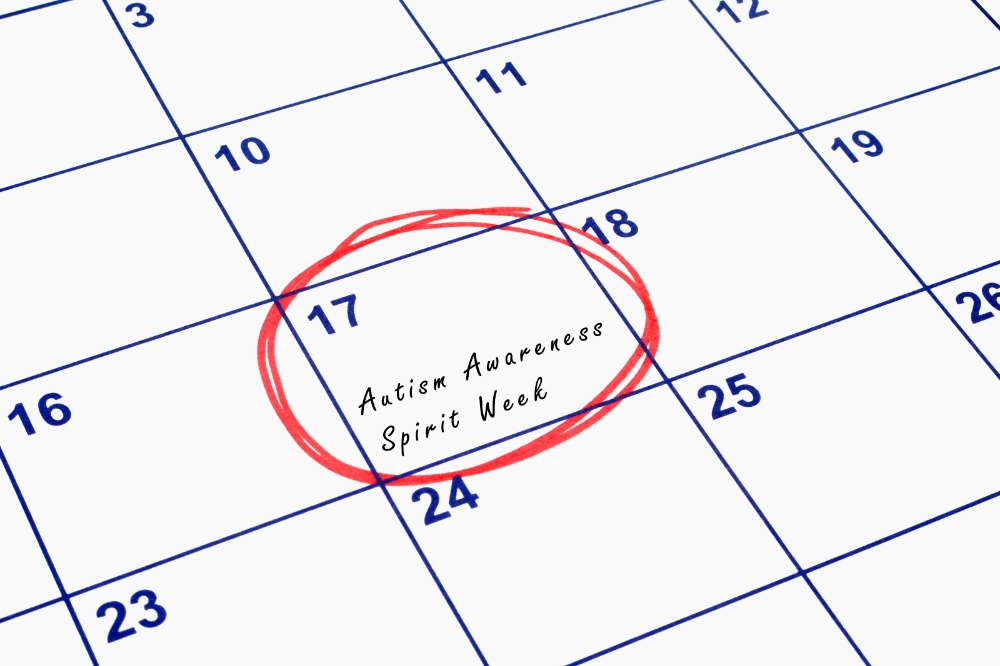 4. Organize an Autism Awareness Spirit Week
If you're looking for autism awareness activities for students, try organizing a spirit week to unite everyone behind the cause. By incorporating autism awareness spirit week ideas, you create a more inclusive educational environment by giving students a heightened understanding of people on the spectrum. Here are a few examples of autism awareness activities for schools that want to host a spirit week:
Monday: Team Up for Autism – wear your favorite team jersey
Tuesday: Be an Individual – show off your flair during crazy sock day
Wednesday: Put Bullying to Bed – stay in your pajamas for PJ day
Thursday: Blend Together for Autism – unify with tie-dye clothes
Friday: Go Blue – throw on some blue to show support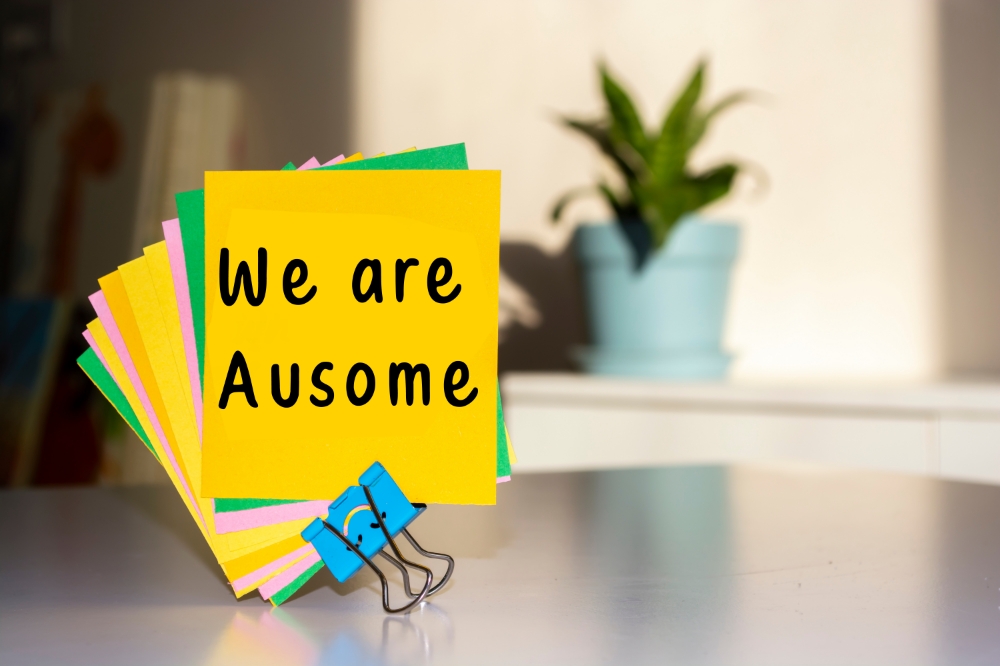 5. Spread Kindness
People often wonder how to celebrate Autism Awareness Month, and sometimes it's as simple as spreading a little kindness. Encourage students or employees to write kind messages on sticky notes and post them around the office or school. Since a puzzle piece is seen as a symbol of the complexity of the autism spectrum, pick up Post-It® Custom Puzzle Piece Note Shapes for everyone to write on.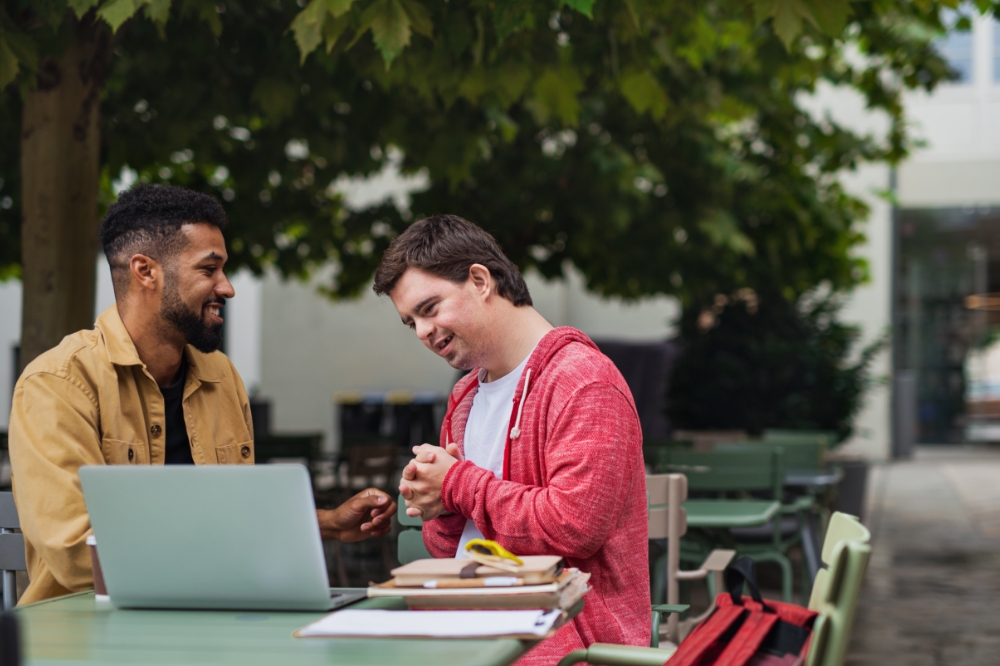 6. Organize an Anti-Bullying Campaign
The campaign to stop bullying has been running strong for years, and people with autism are sometimes at the forefront of that bullying. Come up with Autism Awareness Month activities to combat bullying and encourage inclusion. For schools, autism awareness campaign ideas might include setting up a bullying prevention pledge table in the cafeteria. You can include information about autism to educate students and garner support for the campaign.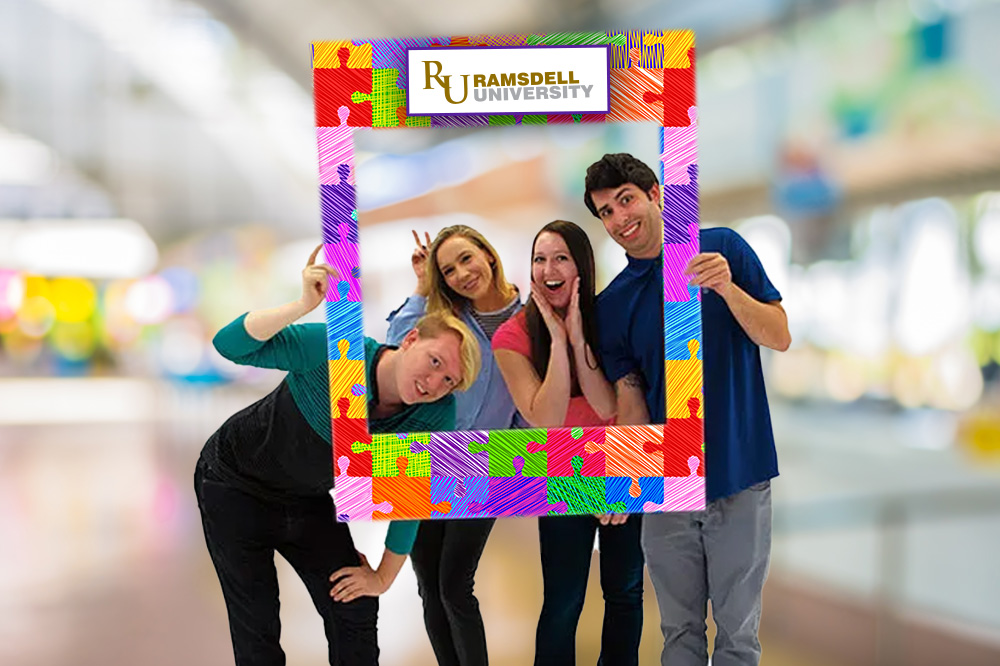 7. Show Your Support on Social Media
In today's world, social media is one of the best ways to spread a message. Get behind the cause by putting an encouraging message on your school or company's social media platforms. You can also come up with autism awareness ideas that encourage students or employees to post on their own channels. For example, pick up a selfie frame with a custom message in support of Autism Awareness Month and have them take a picture to post.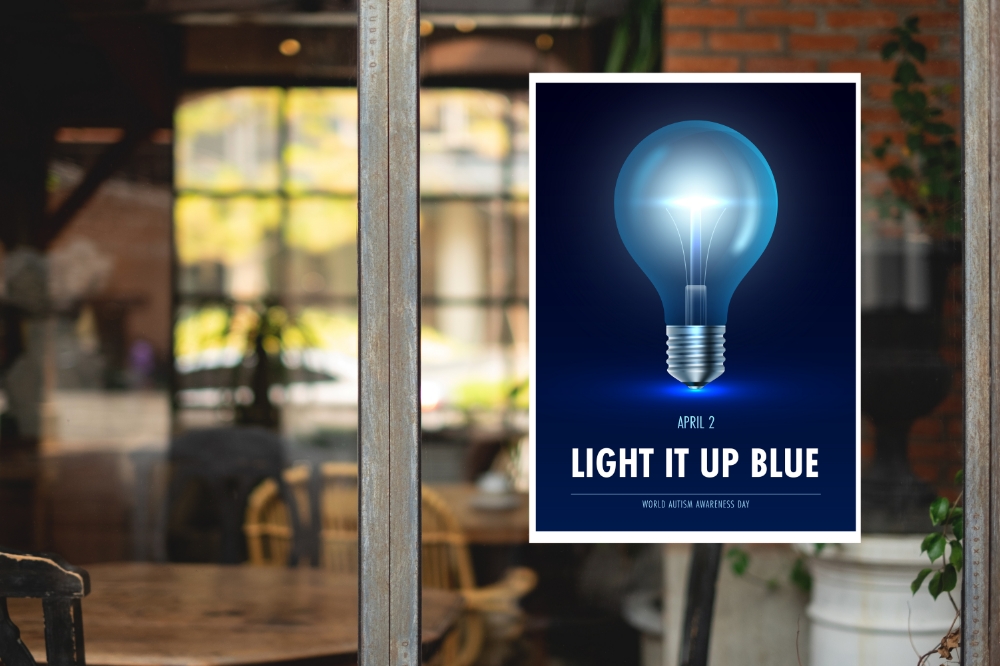 8. Educate
Education goes a long way if you're wondering how to celebrate Autism Awareness Month. By talking about the complexity of autism, you can garner positive attention for people on the spectrum. Distributing banners and posters are great autism awareness activities for schools, community centers, government buildings and more. For younger students, reading a book can also shed light on autism. There are plenty of kid-friendly books such as "A Friend Like Simon" or "Ian's Book" to help get the message out in story form.
9. Show a Movie
Movies are excellent Autism Awareness Month ideas because they help people connect more intimately with the experiences of people with autism. Whether it's at school or in a local theater, show a movie to encourage people to learn more about autism. There are a ton of great movies to choose from, including "Rain Man", "The Horse Boy" and "Temple Grandin".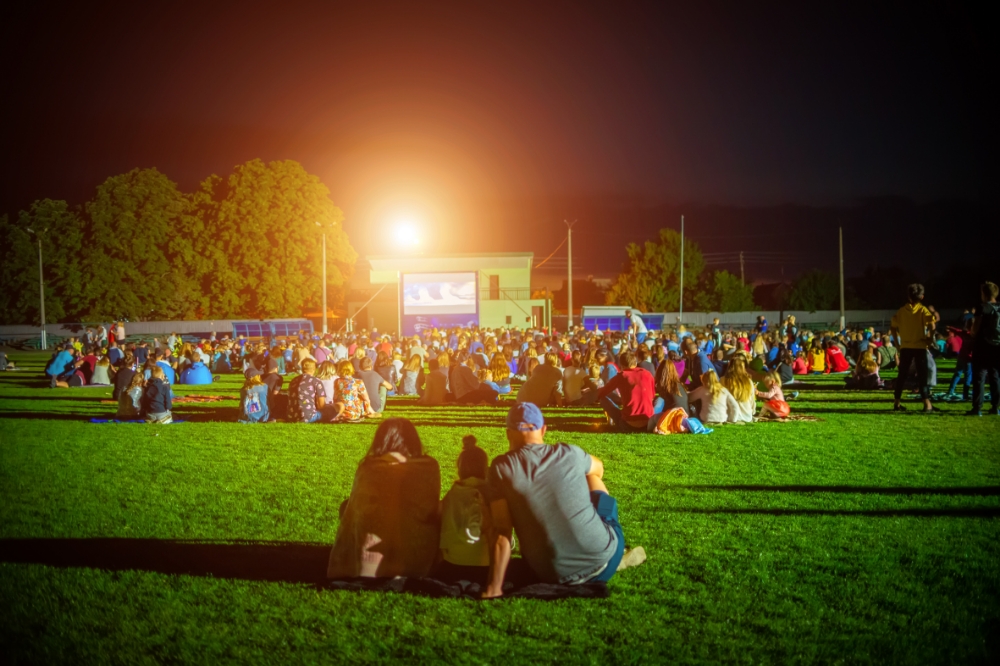 The best activities for Autism Awareness Month are the ones that build unity and educate about how autism affects each individual. Doing your part as a school or business means being inclusive and open to discussion. You can do just that with the right plan of action, an open mind and the appropriate tools to show how complex autism is.